BLOG /
Medical Alert Systems
A Positive Attitude Means a Longer Life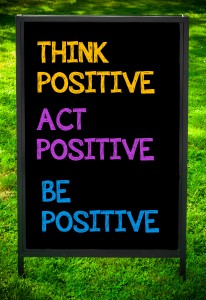 Some people are born on a sunny day, they see the glass half full, and live life with rose-colored glasses. For those lucky individuals, a positive outlook may result in a longer life. New research shows that many people who experience life in an optimistic way are often healthier and live longer than their pessimistic counterparts. For seniors set in their ways, adjusting your attitude to be more positive may seem like an impossible task, but the truth is it's never too late. We have all heard that laughter is the best medicine, but research reveals that a less-stressed and more positive outlook can speed healing, and keep you from getting ill as often.
The Research
The study of positivity has gained a lot of interest in the scientific community. Scientist have long known that the connection between the body and the mind played a large part in overall health and wellbeing. There have been studies on the healing ability of positive people and numerous studies on the longevity of an optimistic outlook. A study conducted by the Mayo Clinic found that optimistic people were less likely to pass away at an early age than those who are have a pessimistic attitude – by almost 50%. Another study of a senior's outlook on usefulness concluded that positive seniors were 77% less likely to have heart disease. Similar results have been repeated in other studies, from college students to cancer patients, establishing that positivity has universal benefits.
The theory behind these studies is simple: positivity means less daily stress. Stress causes inflammation that makes it harder for your body to heal itself. A fall is a physical setback and a pessimist feels that stress more heavily. An optimist may look at the fall with less stress and may be more proactive in taking positive action to recover, and taking steps to protect themselves with a medical alert system for seniors. By reducing stress, making positive changes, and not holding on to life's problems, optimists are calmer, healthier, and live longer lives.
How to Achieve a Positive Outlook?
Not everyone comes to positivity naturally. Some of us must work harder to achieve a positive outlook. Luckily, many studies show that small amounts of stress reduction are incredibly impactful. Here are some easy ways to achieve a more positive outlook:
Look for positivity. By finding the positive moments in your everyday life you can decrease stress and increase positivity. Journaling or gratitude lists are great ways to identify the sunnier side of life.
Make positive step forward. Whether it's cooking something new, planning an adventure or ticking off items on a to-do list, achieving daily goals helps lift your mood and provides a milestone to track positive progress.
Be kind. Helping others is always a great way to help boost self-esteem and improve your outlook. Get involved with local charities, volunteer, or just make your friends or family's days brighter by having a positive attitude.
Practice makes perfect. Go through the motions of being a more positive person. If you have a bad day try to reflect on it as a positive person might. In time, you'll find it easy to reach that positive frame of mind – you can control your attitude with practice.
Another great way to achieve a positive outlook is to build in safety nets that reduce worry from your life. Falls and other medical emergencies add stress and worry. Medical alerts for seniors are a great way of eliminating unnecessary stress.
Take a look at reviews to find the best medical alerts for seniors — and to help live life with a little less stress, enjoying a more positive outlook about the future.