BLOG /
Medical Alert Systems
Baby Boomers: A Fun, Active Retirement
By Paul Gamber |
30394
Views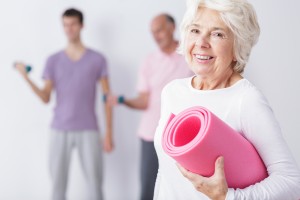 Baby Boomers are retiring at the rate of approximately 10,000 per day. By the year 2030, nearly 73 million Americans age 65 and older will make up more than 20% of the U.S. population. As a generation, Baby Boomers have shaped every stage of life, and the retirement years promise to be no exception. Today's retiring Baby Boomers believe that nothing is off-limits to keep them active and entertained.
The 78 million Americans born between 1946 and 1964 are unlikely to settle for Bingo night as the highlight of their week during retirement. As with every other phase of life they pass through, Baby Boomers are expected to redefine retirement and aging expectations and do things differently to suit their individual needs, whether that involves working out at the gym, listening to rock 'n' roll, or meeting new people on a dating website.
A Generation on the Go
Baby Boomers take their well-being seriously, and fitness is a priority for many people of this generation. Going to the gym, playing sports, running, walking, aerobics, etc. help them feel healthy and young and help combat obesity and related health issues.
Most Baby Boomers agree that the best way to keep from growing old is to remain active. Fortunately for retirees today, the internet is a valuable resource for information about fun activities and people with whom to do them. Social networking and dating sites are a great way to meet people who share similar interests and find scheduled activities with open invitations.
Baby Boomers are pursuing a range of activities done in a group setting outside the home, including:
Exercising
Dancing
Art
Bowling
Biking
Tennis
Golf
Swimming
Card games
Travel
Shopping
Dating
Dining out
Health Concerns for Retired Baby Boomers
Most men and women retiring today to not intend to spend their sunset years close to home, puttering around the house. With the daily 9-to-5 grind behind them, now is their chance to spend quality time with family and friends, see the places they've always wanted to see, pursue hobbies, sports, arts, and do the things they love.
Along with the freedom from the daily grind, however, increasing health concerns come with aging. Over the age of 65, the risks are higher for falls, heart attack, stroke, and other serious health problems, making it important to have emergency medical alert protection.
Fortunately, emergency medical alert technology has advanced with the times. The newer systems use satellite GPS technology to bring you medical help in an emergency, no matter where you happen to be. Added features are also available, such as "fall alert" to summon assistance after a fall, wherever you are and even if you are unconscious from the fall.
Baby Boomers who want to make the most of retirement may be away from home pursuing their interests, enjoying life a good portion of the time. Active retirees who need emergency medical alert protection that travels with them can shop for the right system to suit their needs by reading medical alert reviews.