BLOG /
Medical Alert Systems
Finding Love After Retirement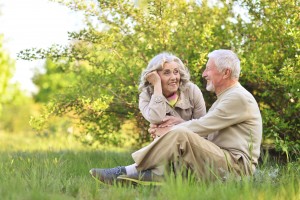 With more and more Baby Boomers retiring every year, many are faced with the question of what to do with their newfound freedom. Facing retirement and old age alone can be a terrifying idea – even more terrifying than dating. Baby Boomers are a bold breed though, and are jumping head first into the dating pool. Whether widowed, divorced, or too busy enjoying life to settle down, many seniors are looking to find that special someone despite their age.
With a slight increase in divorce rate among those over 40, single life is becoming more common for older individuals. So-called "grey divorces" are expanding the dating pool and allowing seniors to find love and companionship. You aren't alone in your search for love! The dating pool for seniors is larger than you may think, and dating is on the minds of many. AARP has several articles on dating in your retirement and some tips for those a bit out of practice.
Dating over 50
Dating has changed, as most things have, with technology, and Baby Boomers are embracing these new pathways to relationships. Much like their younger counterparts, seniors are looking to social media and dating sites for help connecting with potential love interests. Facebook allows seniors a way of reconnecting with people from the past and seeing if that spark is still there. Dating sites devoted to dating over 50 have become much more prevalent. You can upload a photo, input your age and be on the road to romance within minutes.
Some seniors are looking for a more traditional path to romance. Luckily Baby Boomers are an outgoing bunch and tend to be more involved, with many activities and hobbies. Dating 101 at any age is to get out and try something new, doing the things you enjoy. This allows for a more organic relationship to form, based on similar interests. That pottery class you love just might lead to a romance. Others are making connections at work, or through friends or family.
Taking Care of Your Heart and Health
Love and companionship are major aspects of overall health and happiness. Taking care of yourself is important, especially when dealing with the prospect of dating. Elderly alert systems are a way of managing your health while you focus on romance. Bracelet, pendant, and necklace models of elderly alert systems allow for discreet, comfortable support for dating seniors. GPS and location services are a great option when you are out exploring with your new special someone. Check out the latest reviews for the best fit for an elderly alert system so you can focus on creating a long-lasting relationship.