Help Button on Medical Alert Systems
When you unpack your brand new medical alert system, the first thing you will likely see is your base unit. And the first thing you will likely see on the base unit is a button that says "help" or "emergency." It is big and on some systems it will light up when you plug it in. There is a reason it is so prominent — the help button is the key to your entire system.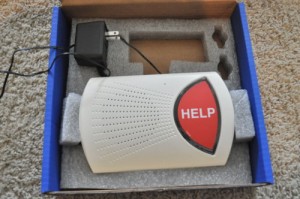 The help button is what connects you to the central monitoring facility in the event of an emergency. You press the button and a call is automatically placed to the monitoring center, Within moments you are speaking to a trained medical professional who is there to help you.
The help button is also located on your medical pendant or bracelet. Those buttons are smaller and are not labeled "help" or "emergency," but they perform the same function. They send a wireless signal to the base unit to place that crucial call to the monitoring center.
So yeah, the help button is pretty important. A malfunctioning help button means you would not be able to call for help when you need it. We do not have to tell you how tragic the results could be from such a situation.
But never fear — all medical alert equipment is solidly built, rarely failing when the time comes. But it is important to test your equipment at least once a month to make sure it is working. If it is not, you and your company can solve the problem before a life or death situation arises.
Every aspect of your medical alert system is vital, from the base unit to the medical pendants to the monitoring facility. But it all starts with the help button.