BLOG /
Medical Alert Systems
Importance of Medical Alarm Monitoring
You can go out and get the most sophisticated medical alert system with all of the bells and whistles that technology has to offer. But it is absolutely useless if the person who is supposed to be monitoring your system is asleep at the switch, figuratively or literally. That is why is it so important to have quality medical alarm monitoring.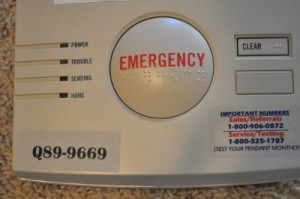 This really should not be a problem. All companies offer comprehensive 24 hours a day, seven days a week monitoring. But there are differences between the monitoring policies of each company you should be aware of. It could make the difference in deciding which company you will choose for your medical alert needs.
For example, some companies own their own monitoring facilities. Others contract out to larger central monitoring centers that handle clients from a number of companies. These large facilities are all licensed and do top-notch work. However, you may be more comfortable going with a company which has direct control over its monitoring center.
Medical alarm monitoring also varies as to the level of training the monitors have. One company might require monitors to be licensed EMTs. Others might require less medical knowledge. Either way, every monitor is trained to deal with virtually every emergency and is qualified to get help to you right away.
Most companies have more than one monitoring facility just in case one is forced to shut down for whatever reason. This rarely happens, but it is important to have a backup. Some companies have three or more facilities. You can ask about this when you speak to representatives at the specific companies.
Your alert system is only as good as the medical alarm monitoring behind it. When it comes time to buy a medical alert system, just make sure all of your questions about monitoring are answered. It is too late to ask those questions when you are pressing your emergency button and waiting for a response.