BLOG /
Medical Alert Systems
Intergenerational Mentoring
By Paul Gamber |
21840
Views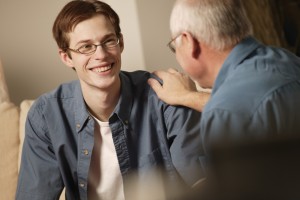 As they get older, some seniors struggle to find ways to continue to feel connected to their communities. At the same time, many communities have needs that go unmet — needs that older adults are in the perfect position to address. One example is intergenerational mentoring, which consists of partnering an older adult with a young person in need of a mentor; these relationships can be deeply meaningful and beneficial to both parties involved.
For seniors who want to give back to their communities but are anxious about the possibility of a negative health event while out and about, medical alert bracelets can provide the peace of mind needed to feel safe while navigating the community.
Give and Take: The Benefits of Intergenerational Mentoring
Retired seniors have so much wisdom and life experience to offer, but may have limited opportunities to apply it after retirement. At the same time, many young people grow up and prepare to enter adulthood without adequate support from their families and communities. Senior mentors can help fill this gap through intergenerational mentoring programs, which partner the older adult with an at-risk youth. The senior can help provide the wisdom, guidance, and support that they need to make positive choices and improve their outcomes.
Staying Safe with Medical Alert Bracelets
Especially for seniors with health problems, the prospect of going out into the community on a regular basis can be intimidating. They may worry what would happen if they experience an adverse health event while away from home. Medical alert bracelets can help alleviate these worries by providing an easy way to seek help if needed, no matter where the senior is. These bracelets are equipped with a button that the senior can press in case of an emergency to be connected with an operator – even if they are unable to reach a phone to call for help, a medical alert bracelet means that help is always just a push of a button away. Medical alert systems come equipped with a variety of different features for the active and involved senior. Check out our review page to see which system may be best for you.