BLOG /
Medical Alert Systems
Medical Alert Necklace Designs Are Better Than Ever
By Paul Gamber |
3066
Views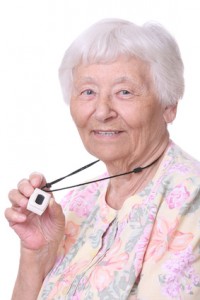 Medical alert necklaces help save lives, and it is important to wear them wherever you go. That is easier to do now that these life-saving pendants come in smooth, pleasing designs that can be worn by both men and women, over or under clothing.
Medical Alert Necklace Advantages
When a person is unable to move, it may be impossible to reach the telephone or a stand-alone medical alert system in an emergency. A medical alert necklace could be more effective in providing protection for the wearer than a medical alert bracelet. As the pendant is worn around the neck, it can be accessed to activate it with either hand. This could be important in the case of a stroke or sudden paralysis on one side of the body.
The new smooth medical alert necklace designs are both stylish and comfortable, so they can be displayed with confidence over your clothing, or worn with comfort next to your skin. This gives you the protection of an easily accessible medical alert button that can be worn around your neck at all times, even while sleeping.
New medical alert necklace designs are waterproof, so you can wear them in the shower or bath, to allow instant access to help in a bathroom slip and fall accident. See our comparison for companies that also offer built-in fall detection, in which an alert is triggered automatically in a fall.
Stylish New Medical Alert Necklaces
New medical alert necklace designs are stylish enough to be worn as an item of jewelry. With an attractive design on the front of the pendant, while the medical alert button is on the back, no one will know that the jewelry you are wearing is actually a medical alert necklace. Men who don't care to display a necklace over their clothing can wear medical alert pendants beneath the shirt. It will not show through clothing, and the smooth new designs make it comfortable and easy to wear. You may never need to take your medical alert necklace off! It can also give your family peace of mind, knowing that, should you ever need it, help is just a touch of button away.