BLOG /
Medical Alert Systems
Medical Alerts: 24-Hour Monitoring
By Paul Gamber |
2135
Views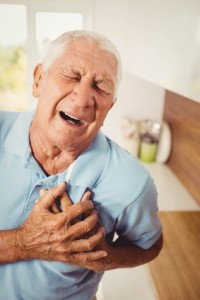 82-year-old Martin was upstairs in his home while his wife Betty was in the basement doing laundry. Suddenly, Martin felt a searing pain in his chest followed by his legs collapsing beneath him. He tried to call out to his wife but she was too far away, although in the same house. That's when Martin pushed the emergency call button on his bracelet, triggering the medical alert system.
Immediately, an operator who received the alert could communicate via a two-way microphone in the device. She summoned an ambulance to his address at once. Betty was coming upstairs when she heard Martin talking to the operator and got to his side right away. Thankfully, because the emergency response was so fast, Martin received the help he needed and survived his heart attack.
Emergency Help at Your Fingertips—Any Time of Day or Night
An elderly person is at greater risk of falling or suffering a medical crisis, such as a heart attack, seizure, stroke or other emergency. Whether living alone or with others, emergencies can still arise at any time. Medical alert systems enable someone to contact a responder in a monitoring center very quickly. On call 24/7, 365 days a year, the always-on-duty operators are the key to the system.
The basic system is installed in the home, connected either to a landline or cellular service. You wear a pendant or bracelet with an emergency call button. This device should be worn 24 hours a day, and because it is waterproof, it functions while bathing in the shower or tub. If an emergency arises, you push the button and are immediately connected to an operator, no matter the time of day. Two-way communication is possible via a microphone and speaker.
Some systems are also mobile, so if you are outside in the yard, visiting a neighbor, or at the grocery store, golf course, or movie theater, your device can go with you. It fits in your pocket or purse, and a simple push of the button immediately connects you to emergency help. Some systems have fall detection capability, which will alert the operator if it detects an unusual movement pattern. Even if you can't speak, the operator can still summon emergency responders.
An additional feature is GPS technology. This allows responders to locate you wherever you are if a medical emergency arises. This saves valuable time when emergency medical needs to get to you as soon as possible. Speed of response is the critical point for having the best chance of survival.
Better Than a Telephone in an Emergency
The emergency call button is your lifeline to receiving emergency help fast. In fact, it's faster than grabbing a phone and dialing a number. Rather than feeling imprisoned in your home due to fear of falling or other physical issues, a medical alert system with an emergency call button allows you to move about much more freely with confidence. It means freedom and independence for many. You can compare different systems here.