BLOG /
Medical Alert Systems
Retirement? Bring It On.
By Paul Gamber |
3234
Views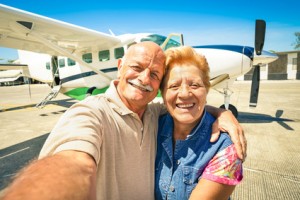 You may have heard of the "way it's supposed to be," i.e. you're born, you grow up, you work, raise a family, retire, then die. If that's the way you are thinking, then you need to wake up and think again.
The New Retirement Game
In the past, it may have been "logical" to plan your life this way, especially the retirement part. After all, once you hit 65, there's not much else to do, right? Wrong! Today those approaching, or inhabiting retirement are in a large part just beginning a new phase of life. And with modern medical alert systems, seniors can jump into this phase with safety and excitement.
Yes, it's true our bodies start to slow down as we age. More mysterious aches and pains, less strength in our bones and muscles, more susceptibility to disease, diminishing eyesight and hearing…the list grows. But seniors don't have to take it sitting down. In fact, the more you move, the better off you are. Medical alert systems are the safety net that help you do just that.
They work this way. You wear a bracelet/wristband or necklace pendant with an emergency call button. If you suffer a fall or have a heart attack, seizure, stroke or other crisis, a push of the button is all that is needed to immediately contact a trained operator. The operator will send an ambulance or EMTs to your location, saving valuable time. Having this emergency button is much faster than trying to locate a phone, dial a number, and possibly be put on hold.
Medical Alert Systems: Age Safely and Actively
A basic emergency alert system has a short range, meant for in-the-home-only use. But there are more advanced systems that are mobile, meaning you carry a small device in your pocket or purse that functions the same way as the bracelet or pendant. So, if you are a senior who shops, gardens, golfs, or takes walks, you can do so with peace of mind that help is a button push away.
You can peruse the different medical alert systems and features here.