BLOG /
Medical Alert Systems
Senior Living: A New Era of Freedom
By Paul Gamber |
2387
Views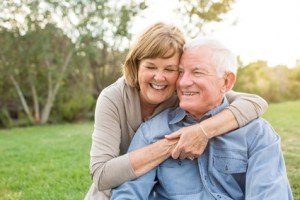 Just because Jack, a 72-year-old retired teacher, can't jog 10 miles anymore, he still enjoys walking 3 miles several times a week around his neighborhood and is the picture of health. He and his wife Marie live at home. Imagine his surprise when he fell in the garage, suffering a broken hip. His wife wasn't home at the time, but thankfully, he was prepared and had an emergency alert button on a wristband. He pushed it and was immediately connected to an on-call operator, who then summoned an ambulance for him.
Jack and his wife decided a month earlier to sign up for a medical alert system for each of them. It involves a base unit at home connected to their phone line. Jack and Marie each wear an emergency alert button, his on a wristband, hers on a pendant.
Now, if either of them suffers any type of medical emergency, they only need to push the alert button on the device. Immediately, an on-call, trained operator is alerted. A two-way communication system allows them to talk with the operator and relay what happened, and the operator can summon emergency responders, a family member, or neighbor, depending on the situation. Some systems include fall detection capabilities, which will alert the operator even if the person is unconscious or otherwise unable to speak.
A Safety Net Wherever You Go
Not only that, Jack and Marie opted for a mobile system, since they each are very active in the community. Wherever they go, their mobile device functions just like the base at home. If there is an emergency, they can summon help very quickly. And as Jack's doctor told him, the speed of medical assistance he received after breaking his hip made a huge difference in reducing the level of his injury and the time needed for recovery.
There are several different systems and features available. All of them include a basic alert button. Even a senior who never leaves the house can suffer a fall or have another emergency, and the button provides the needed help in these instances. The button is far faster and more efficient than trying to find a phone and dialing any number.
Some systems function within a short range, perfect for seniors who tend to spend the majority of time at home. Others have much wider ranges with GPS technology, providing support when out at the grocery store, golf course, at church, working in the garden or any other activity.
Much Less Worry, Much More Freedom
Medical alert systems with an emergency alert button make a significant difference in an elderly person's independence. There is no reason to curtail activities if the person can participate within reason. As our seniors are enjoying longer, more mobile lives than ever before, it only makes sense to make sure that a safety net goes with them. We can't always be there for our loved ones, but an alert button can. Check out the reviews for the various systems and features. You are sure to find one that will fit your needs, or those of a loved one.