BLOG /
Medical Alert Systems
Seniors in the 21st Century – A New Breed
By Paul Gamber |
12054
Views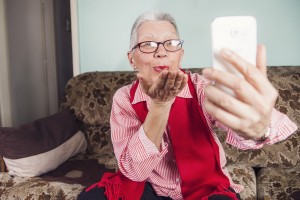 With longer lifespans, older adults are spending more time enjoying their "golden years" after retirement, and advances in technology make it possible for them to stay active and involved in their communities far longer. Medical advances keep seniors healthier and more independent, allowing them the time and energy to explore other interests and find ways to continue to contribute to society. 21st-century technology plays a vital role in allowing seniors to enjoy long, happy, healthy lives.
Staying Connected with Technology
Seniors didn't grow up with all the technology we have today, but many of them are mastering its use quickly. Apps like Skype and FaceTime allow seniors to stay connected and see and chat with friends and loved ones who are unable to visit on a regular basis. Social support is linked to better mood and improved overall health. Seniors who are no longer able to get together to play their favorite games in person may can often find digital variations that keep them mentally connected and socially in touch.
The use of technology like smartphones and computers can present a challenge to older adults who are not familiar with the technology. Many senior and community centers offer technology classes to help seniors become confident with the use of computers, smartphones, and tablets. Connect with your local senior center to find out where you can attend these training sessions. They are particularly geared to seniors, and are presented at a reasonable pace so elderly people can keep up and learn how to use a digital device.
Medical Alert Systems Promote Safety and Independence
Independence is highly valued by many seniors, who do not want to rely on others, and prefer to live out their years in their own home environment. 21st century technology is allowing seniors today to age in place longer and with more independence than in the past. An important safety consideration with living independently is being able to call for help when the need arises, especially for seniors who live alone.
Wearable medical alert systems allow an operator to be contacted at the push of a button, should the person suffer a fall or another health emergency in which it is impossible to reach a phone. The best medical alert systems will offer features that are compatible with your lifestyle – GPS tracking, medication reminders, automatic fall detection, and other options. To enjoy greater peace of mind with your independent lifestyle, check out our reviews page to compare different medical alert systems and select the one that's right for you.