BLOG /
Medical Alert Systems
Seniors Looking for Love
By Paul Gamber |
27573
Views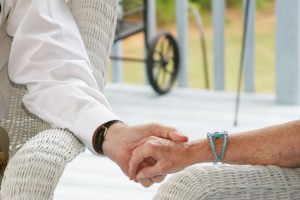 According to the United States Census Bureau, 19 million unmarried people ages 65 and older were living in the U.S. in 2015. These single seniors made up 18 percent of all unmarried adults in America.
To most people, relationships are the most important part of life, and that does not change as we grow older. However, finding a partner later in life can be challenging.
Older singles tend to be independent and self-protective. Their lives may be filled with family, friends, and activities of their own creation. They enjoy their own space and tend to be more selective in finding a partner. These are not negative characteristics, but they can make the search for love in later years even more challenging.
Where Do Seniors Go to Look for Love?
It is only natural for single Baby Boomers to dip into the dating pool searching for socialization and romance. In addition to meeting other singles through family and friends, seniors may go to various popular places in the quest for love and friendship.
Internet
Many single seniors today use online dating sites or mobile dating apps. Some go to niche sites that narrow the dating selection, such as Senior Jewish Singles, Christian Café for Single Seniors, and Senior Black People Meet. Popular dating sites for people over 65 include:
AARP Dating
eHarmony Senior Dating
Our Time
Senior FriendFinder
Community Centers
Community centers allow seniors to gather, meet, and socialize. These centers typically offer a calendar of events and holiday celebrations. Senior community centers provide an excellent way for older people to meet others with similar interests who live in the same community.
Senior Living Communities
Whether they offer assisted living or independent living, senior living communities bring seniors into close proximity, sharing meals and activities within close-knit communities. This can contribute to an older adult's happiness and quality of life, and may make it possible to find companionship and love.
Local Neighborhood Stores and Events
For more extroverted senior citizens, neighborhood libraries, and venues for hobbies can provide an opportunity to meet friends and potential partners. When luck plays a role, a chance meeting may lead to greater things, even at a grocery store or other location.
Dating Services, Matchmakers, and Coaches
Seniors who do not use computers and are not particularly extroverted may turn to dating coaches, matchmakers, and relationship services. A large percentage of matchmakers in the U.S. work with older people. However, these services can be pricey, and there are more women than men to work with, simply because women outlive men.
Medical Alert Device for Single Seniors
For single seniors living alone, it is particularly important to have a medical alert device. This gives you peace of mind knowing you can have help on the way immediately with the push of a button in case of an emergency. If you are out and about dating and meeting new people, you will need a cellular based medical alert device with mobile GPS. A quick review of our medical alert comparison can give you an idea of the systems and features available today.