BLOG /
Medical Alert Systems
Seniors Working Longer Than Ever
By Paul Gamber |
6538
Views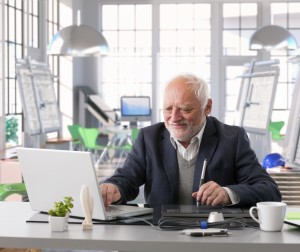 Seniors are living longer, healthier lives and many are saying "No!" to retirement. Whether starting a new career or staying connected to a professional legacy, many seniors are choosing to stay in the workforce well past the typical retirement age. Retirement is no longer a forgone conclusion, and many seniors are happier for it. Some older persons may continue to work due financial stresses, making retirement at 65 impossible. Overall, many seniors are reaping the benefits of working and living longer.
Affording Retirement and the Advantages of Working Longer
Financial concerns are a big factor for many seniors. According to the Social Security Administration, an average man reaching retirement age in 2018 will live to 84 years old. Additionally, one in five seniors lives well into the 90s. Each person must come to a decision about Medicare plans, and when to start taking Social Security benefits. Some seniors are single, either divorced or widowed, and may need to continue to work for financial reasons. Healthcare coverage is an added advantage of working longer, with an employer paying some or all health insurance costs.
Benefits to Working Longer
There are many benefits to working longer that go far beyond the financial. Having an active lifestyle, both mentally and physically, has been linked to a longer life expectancy and higher levels of happiness. Some seniors have a tough time transitioning into retirement. They miss their friends, interactions, and the challenges a career brings to everyday life. Some identify heavily with a professional career and their accomplishments. By continuing to work during the usual retirement years, seniors can retain their professional standing, maintain friendships, and continue to be mentally and physically engaged.
Managing Your Health in The Workforce
For seniors in the workforce, independence is everything. Managing work schedules, personal commitments, and health issues can make it challenging. With the added concern of the risk of falls, heart attacks or other health emergencies, many working seniors turn to modern technology for added support. Senior medical alert systems are a great way to provide a level of comfort to active, working seniors and extend the ability to stay in the workforce for years longer than in the past.
In comfortable, easy-to-wear styles, senior medical alert systems are available in pendants, necklaces and bracelets that are simple to integrate into an active lifestyle. Many senior medical alert systems on the market include GPS location tracking. Whether at work, home, or out and about, seniors can have peace of mind. Motion detection and two-way communication are advances that make these systems even more valuable for working seniors. If are an active, working senior check out reviews to find a senior medical alert system that fits best with your lifestyle.