BLOG /
Medical Alert Systems
Special Offer from Medical Guardian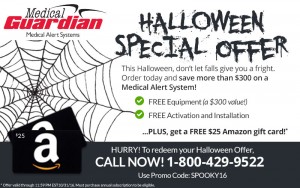 It is extremely dangerous to have a serious health problem or fall while alone at home. Families naturally have concerns about their loved ones who live independently. It is important to do everything possible to keep those we love safe and sound.
To make the holidays happier and safer, look at this special offer from Medical Guardian. They have stepped up to the plate, coming up with a discount offer that makes getting top quality medical alert services even more affordable!  Take a look at this great offer:
FREE equipment (valued at $300!)
FREE activation!
FREE installation!
A Safer Holiday: Peace of Mind with Medical Guardian
Families can enjoy the holidays with peace of mind with the help of a Medical Guardian medical alert system. Knowing your loved ones are protected should an unexpected health emergency arise makes it possible for you to enjoy all the fun get-togethers and activities without worry.
Family Fun
Getting together with family is what makes any holiday special. Families can live a distance apart, and road trips are often part of the adventure. If your loved one drives, you want to know that he or she can get immediate medical assistance should the need arise. Medical Guardian also offers medical alert systems with added features, including GPS technology. This system goes with you, and will connect with the monitoring center by pressing a button on the unit, pendant, or bracelet. Children of active seniors often choose this system, as they know that help can be on the way with the touch of a button.
If you are in the process of researching medical alert systems, Medical Guardian has you covered. Take advantage of this special offer, and save on one of the most respected brands. Stay safe, and enjoy the holidays stress-free!