BLOG /
Medical Alert Systems
The Secret to Avoiding Falls
By Paul Gamber |
4970
Views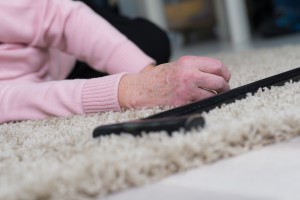 Falls are a leading cause of injury and death for senior citizens, and the risk increases with age. According to the National Council on Aging:
An older adult is treated is an emergency room for a fall every 11 seconds.
A senior citizen dies from a fall every 19 minutes.
Every year, one-quarter of Americans age 65 and older suffer a fall.
Falls are the leading cause of fatal injury among older adults.
Falls are the most common cause of non-fatal trauma for which older adults are admitted to the hospital.
The statistics speak for themselves, but that does not mean that falling is an inevitable part of aging. With practical lifestyle adjustments, the risk of falling for seniors can be significantly reduced.
Fall Prevention Tips for Seniors
People age 65 and older have a higher risk of falling, but there are a number of practical steps you can take to help reduce the risk:
Remove obstacles that could cause tripping, inside and outside the house.
Install lighting in staircases, with light switches both upstairs and downstairs.
Add non-slip treads to bare wooden steps.
Place no-slip mats in the bathtub and shower.
Secure rugs with tacks, double-faced tape, or slip-resistant backing
Immediately clean up any spilled liquids, food, or grease.
Repair loose carpeting and wooden floorboards.
Install grab bars in the bathroom, around the toilet and tub.
Store dishes, food, clothing and other necessities where you can easily reach them.
Paint doorsills in a different, highlighting color to help avoid tripping.
Place night lights in the bathroom, bedroom, and hallways.
Place a lamp within easy reach of the bed for middle-of-the-night lighting.
Store flashlights where they are easy to find and reach in case of a power outage.
Ask your doctor to review your medications for side effects and interactions.
Have your vision checked regularly.
Wear sturdy, properly-fitting, shoes with non-skid soles.
Use assistive devices, if needed.
Begin an exercise program if you are able, such as yoga or tai chi, to strengthen muscles and joints, increase flexibility, and improve balance.
Emergency Call Button for Protection in Case of a Fall
Older people are at risk of falling, but you take practical steps to turn the odds more in your favor. If a fall does occur, emergency medical assistance can make a difference in the outcome.
With a medical alert bracelet or pendant worn on your person at all times, you have an emergency call button to get help on the way immediately in case of a fall. These devices are waterproof, so you can wear them in the tub or shower, where slip and fall accidents are more likely to occur.
Some advanced medical alert systems have built-in fall detection. A sensor on the medical alert pendant detects when a fall occurs and automatically activates the emergency call button in case you are unconscious or otherwise unable to push the button. See our medical alert comparison for help selecting the system that best suits your needs.