Bay Alarm Medical Review
Starting Price at

$21.95/mo
Bay Alarm Medical has been offering solutions for elders to protect them against falls with a quick, simple, and easy press of a big help button.
Call Now for Offer Detail
833-889-0431
Vial Of Life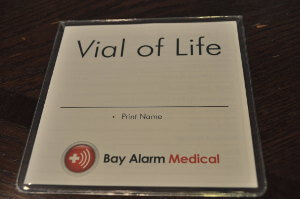 The first thing you'll notice when you open the box is a plastic pouch with a magnet on the back, containing a card. On the card you list all of your information – name, emergency contacts, etc. Then you just stick it on the refrigerator. In the event of an emergency in which you are unable to communicate, EMTs can read the card and get all of your pertinent information. This handy little card is a great idea that could help save your life. There is also some paperwork such as registration materials that you fill out and send back to Bay Alarm Medical in an envelope provided for you. In another box is the device itself.
The Equipment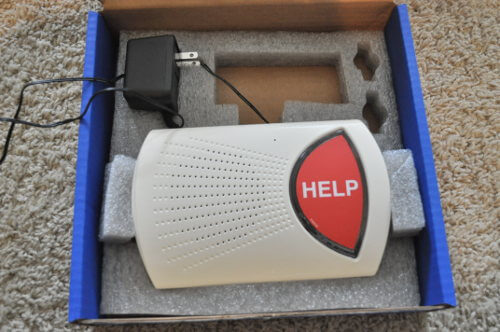 The base unit is simple – it contains a built-in microphone and speaker, and a "Help" button. The button is easy to press and is very large, so there is no way you could miss it in the event that you need to use it. It comes with a power adapter that you plug into the electrical outlet and a telephone connection that you plug into the wall. If you only have one telephone jack, you can also plug your telephone directly into the unit so both will work.
Included in our package were two alert buttons – a bracelet that you wear around your wrist and a pendant you wear around your neck. Both are small enough that they are not particularly bulky. The buttons themselves are easy to press, but not too easy that you will trigger false alarms.


The Test
The paperwork told us to follow the instructions to connect and test the device. However, there were no instructions included in the shipment we received. Fortunately, it was simple and easy to figure out on our own. First we plugged the power adapter into the wall outlet. The unit beeped and immediately told us to check our telephone connection, which we had not yet plugged in. This is a good because if the telephone line somehow gets disconnected, the unit will let you know to plug it back in so you will always be protected.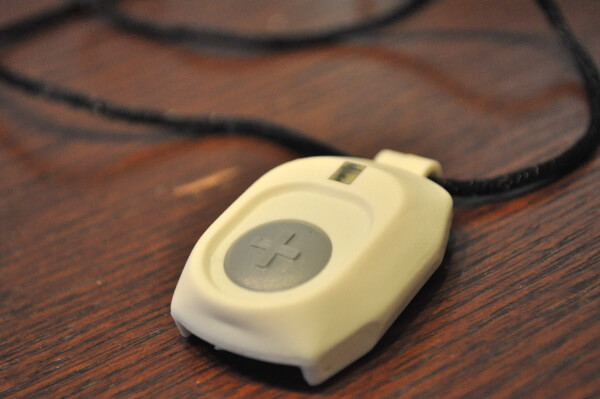 Then we plugged in the telephone line. We also plugged in our telephone to make sure it worked, and indeed, we had a dial tone. There is a small status light on the help button, and ours was red. We assumed it needed to be green, so we pressed a reset button on the back. The light then turned green. Again, this was easy to figure out on our own, but it would have been nice to have instructions to tell us what we should expect to see.
Then it was time to test the system. We pressed the help button. A loud and clear voice came through that said, "Calling for help." The status light turned red. There was some beeping, and then there was silence. For what seemed like a long time. Finally after more than a minute, a voice came on and said, "Connecting." A few second later the operator came on. Now, Bay Alarm Medical touts on its website that response time is less than a minute. This took longer, closer to two minutes.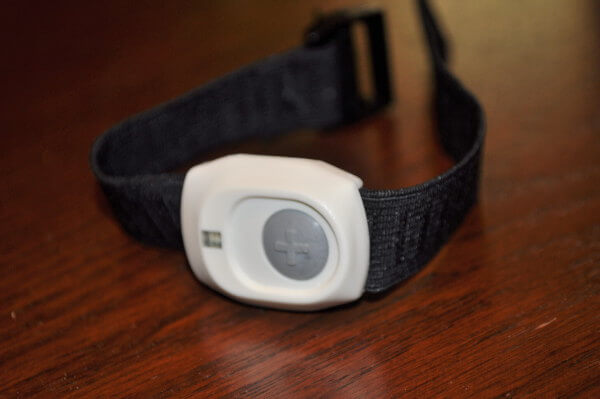 She asked if we needed help, and we told her we were just testing the unit. She confirmed my identity and just to be sure, asked again if help was needed. The operator was professional and friendly. Then it was time to test the alert buttons and whether the operator could hear us from another room. The system purports to be able to work from wherever you are in an average sized house. We went into another room and pressed the button. We heard the same noises, and this time the response was indeed less than one minute. When we first asked if she could hear us, we got no response. We said it a bit louder and then she was able to hear us. The speaker is very loud so we were able to converse with her just fine. It did seem as though we had to speak in a louder than usual voice, which might not be possible for you in the event of an emergency. The system is set up that if you press the button and the operator does not get a response, help is automatically sent. So even if you cannot speak or they cannot hear you, you will still get help.
The Verdict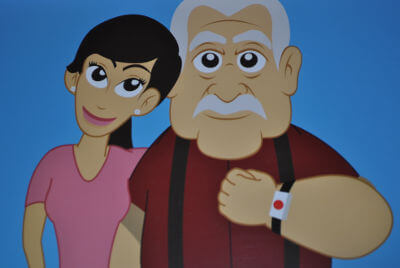 Bay Alarm Medical basically works as advertised – you press a button and help is on the way. In that way, you can't go wrong in choosing Bay. However, there were a few negatives. The lack of instructions was disarming; while it is easy to figure out, not everyone is technologically inclined. There needs to be printed instructions in the box. Perhaps because ours was a demonstration model, all of the instructions were not included.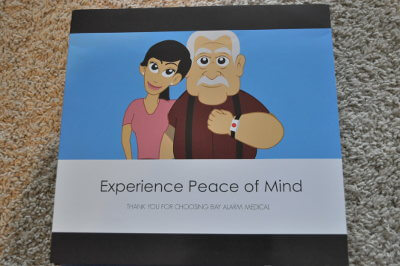 We were taken aback by the silence between calling for help and being connected to an operator. We understand that it takes a few moments for the call to go through, but in an emergency situation, such silence could be frightening. Is my call going through? Should I press the button again? Is something going wrong? It would be nice to have some kind of audio indication that the call is going through. It also took too long to connect in our first attempt. Our second attempt was much better; we are hopeful the latter response time is the norm.
Final Review About Bay Alarm Medical
Bay Alarm Medical is a solid option for seniors or their family members whom are looking for a inexpensive medical alert system.
The Pros ( + )
24 hours a day, seven days a week monitoring of your system.
In addition to its company headquarters, Bay Alarm Medical has two call centers so if one were to go down, there is a backup. The monitoring centers are located in the United States.
The call centers are certified by the Central Station Alarm Association and undergo random inspections to make sure they are adhering to the high standards of the CSAA.
There are no initial startup costs; the equipment is free.
No contract to sign.
Rates are competitive with other companies. In addition, Bay Alarm Medical offers discounts for signing up for a year or for three months.
Support is offered in 170 different languages.
Free monitoring for a spouse at no additional charge.
The Cons ( - )
While there is no charge to monitor a spouse, you have to purchase an additional alert button.
There is no option to hook the system up to your cell phone, which a few other companies do offer. You need a traditional landline. This is not unusual, as many companies require an old fashioned phone. However, you cannot use an Internet-based telephone, which is possible with several competitors. If you don't already have a landline and you have to get a new one, this in essence doubles your monthly monitoring costs.
Bay Alarm Medical does not offer fall monitoring, saying such systems have "limited functionality and issues with reliability." The company says it is constantly testing new fall systems and will offer one if/when it lives up to Bay's standards.
It also does not offer an option that would notify you when it is time to take your medications.
If you sign up for the yearly or quarterly plan and you want to cancel early, you will not get a refund.
Bay Alarm Medical Offers & Deals
***SPECIAL NEW OFFER FROM MEDICAL ALERT COMPARISON***
USE PROMO CODE "MAC" FOR $1 Off ALL MONTHLY BAY ALARM MEDICAL PLANS!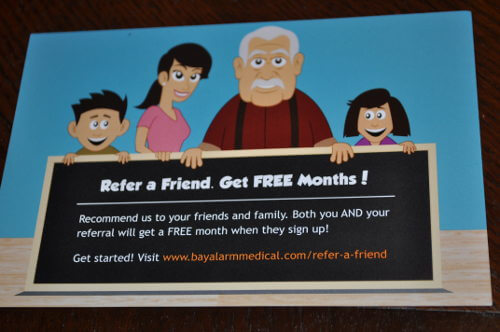 Bay Alarm Medical is typically offering great deals and offers for seniors. They have promotions over the holidays and can be known to offer discounts and coupon codes to get great deals on the mediclal alert systems such as the coupon code above. For example, right in the box you'll find a promotional card offering you free months on the Bay Alarm system for referring your friends or family to sign up and order a new medical alert device.
Reviewed by Mark Berman at Medical Alert Comparison