Call Now for Halloween Sale
888-888-3014
Medical Guardian Review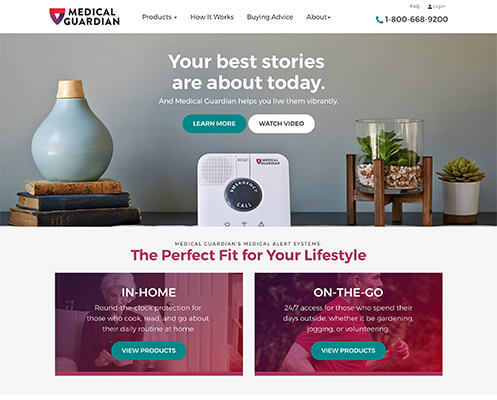 If you're considering a medical alert system, Medical Guardian is a great option. Medical Guardian is one of the leading medical alert system providers in the nation. Let's take a look at Medical Guardian equipment and service and see how they stack up against other medical alert system brands.
Simply – a Medical Guardian medical alert device gives senior citizens the independence they want and the dignity they deserve. They offer Free Equipment, Free Activation and a Price Lock Guarantee that your rate will never increase. Read More »
Call Now for Offer Details
888-905-0806
ADT® Home Health Review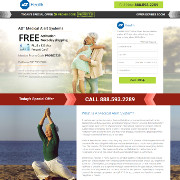 When thinking about home security, the first name that likely comes to mind is ADT, and with good reason; ADT has been keeping people safe in their homes for 140 years.
ADT is also dedicated to keeping seniors safe with medical alert systems that are among the best in the industry... Read More »
Alert-1 Review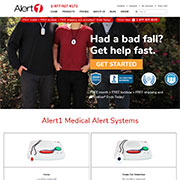 Alert 1 has been in operation for 25 years, providing medical alert systems to some 170,000 seniors. More than 10,000 medical professionals in the United States recommend Alert 1 to their patients who want to remain independent.
Overall, Alert 1 is a solid company to choose your medic alert device, as it boasts more advantages than disadvantages. It will surely meet all of your medical alert needs and give you peace of mind that if an emergency does occur, help through a call alert button is just a quick push away. Read More »
Medical Care Alert Review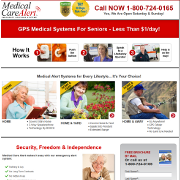 These days when comparative shopping is available at our fingertips, people demand choices
Gone are the days when there is only one option. This sentiment is alive and well in the medical alert business as well, which is what makes Medical Care Alert an attractive option... Read More »
Connect America Review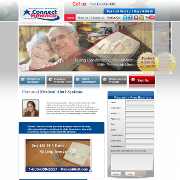 Connect America has received plenty of accolades in its three decades of work. It consistently gets A+ ratings from Better Business Bureaus around the country. Good Housekeeping magazine has named it the top pick for medical alert systems.
And CVS, one of the largest pharmacy chains in the nation, has chosen Connect America to be its exclusive provider of medical alert systems. Connect America has been in business since 1977, giving piece of mind to hundreds or thousands of people that if a medical emergency occurs, help is just the press of a button away...
SEARCH FOR A MEDICAL ALERT SYSTEM BY COMPANY
Medical Guardian Review

Medical Guardian is one of the leaders in the industry. They have been in business since 2005, giving thousands of seniors the peace of mind that if something goes wrong, help is just a press of a button away.
ADT Review

ADT is one of the largest brands in the medical alert industry and has built their company around a strong brand that provides security and safety for millions of people.
Alert 1 Review

Alert1 is reputable company in the medical alert space with very positive feedback on Consumer Affairs and a good better business bureau rating. Their devices employ fail safe alarm monitoring, friendly staff, and a free alert pendant for your wife or significant other.
Medical Care Alert Review

Medical Care Alert is leading with superior customer service and multiple options for seniors, paving the way for a great medical alert option.
LifeFone Review

LifeFone has been in business since 1976 and has a unique emergency care plan, dedicated response plan, world-wide protection and will move their system to your new home in case you decide to move.
LifeStation Review

LifeStation is a solid medical alert company with options for providing immediate help and contacting authorities in the event of a medical issue.
Bay Alarm Medical Review

Bay Alarm Medical has been offering solutions for elders to protect them against falls with a quick, simple, and easy press of a big help button.
MediPendant Review

Medipendant is strong provider of alarm systems and employs a company management team with 30 plus years in the response & alert systems industry. They also have patents on their medical alert technologoy and innovate to provide helpful solutions for seniors.
Connect America Review

Connect America has been in operations as a medical alarm company for over 30 years. Founded in 1977, they have providing piece of mind to hundreds or thousands of elderly to ensure that if a medical emergency occurs, help is right there 24/7.
Philips Lifeline Review

Philips has been innovating in the home electronics category since it was founded in 1891, and is a reputable company we reviewed in the medical alert system industry.
Alert USA Review

Alert USA has been in business for a quarter of a century, providing monitoring for 75,000 seniors every year.
Fall Alert Review

In the world of medical alert systems, there are the names you know and the names you don't know. Just because a company is smaller does not mean it does not provide quality service for seniors whom are prone to fall. Fall Alert is one such firm.
Rescue Alert Review

Rescue Alert is a unique medical alarm company that lets you purchase the medical alert device, and they are a good option for security and safety among senior citizens.
Mobile Help Review

Mobile Help is one of the leading innovators in the medical alert industry, providing seniors with the ability to be independant with a GPS technology and a mobile unit for protection away from home.
Advantage Alert Review

Advantage Alert's system has some unique qualities such as button to contact a nurse in case of medical issue that's not threatening enough to contact an emergency medical technician or EMT.
SEARCH FOR A MEDICAL ALERT SYSTEM BY PRICE
So you've taken the crucial first step towards acquiring a medical alert system; you have decided that you actually need and want one. Now comes the hard part – shopping around and deciding which one is the best system for you. As you do your research and look at all of the medical alert reviews and ratings, here are some questions you should be asking:
How much will this cost?
Prices vary between companies and depend on what options you choose, but you could pay as little as $20 for monthly monitoring or upwards of $50 or more. Most companies have a basic plan that usually starts at around $30.
What about start-up costs?
This could be a minefield. Some companies give you free shipping of the equipment, some charge for shipping. Some have an activation fee, others do not. Medical alert service reviews can tell you which companies charge for these and which do not.
Who installs this?
Usually you install the system yourself. It is quite simple; you do not have to be a technological genius to do it. However there are a couple of companies which will send a serviceman to install it for you. They are not doing this out of the kindness of their hearts – you pay for that privilege.
Am I locked into a contract?
Just like the start-up costs, this varies from company to company. Most companies do not require you to sign a contract, but offer tiered pricing that gives you a discount if you make quarterly or yearly commitments. A few companies demand that you sign a one-year deal.
Do I need a traditional landline?
The answer to this question is often "yes." Most systems require an old fashioned telephone from a phone company for it to work. There are a few systems that work with an Internet-based telephone, and even fewer which work with a cell phone. Most medical alert reviews and ratings give this a big thumbs down. So many people are ditching their home telephones in favor of cell phones, and the industry has not kept pace.
Is fall detection included?
There is only one company that offers fall detection, which automatically calls the monitoring sensor when an alert pendant detects a fall. Most companies say the technology is still too unreliable and refuse to offer it, something with which most medical alert service reviews agree.
What about the monitoring centers?
Some companies own their own monitoring centers while others outsource the service to a monitoring company. Either way, you will get 24 hours a day, seven days a week monitoring of your systems. Also, most companies maintain at least two monitoring centers, just in case one goes down for some reason. There are a few companies that only have one, however.
And the people staffing the monitoring centers?
All monitors have some level of medical training. Some companies require 911 certification, others make sure their monitors are Emergency Medical Dispatch (EMD) certified, while others go further and demand that their monitors are actually EMTs. Medical alert reviews and ratings will tell you the training requirements of the respective companies. These are just a few of the questions you should be asking as peruse the websites of the various companies that offer medical alert systems. Make sure you look at the medical alert service reviews here at Medical Alert Comparison to help guide you to your ultimate decision.