BLOG /
Medical Alert Systems
Fall Detection: An Advanced Safety Feature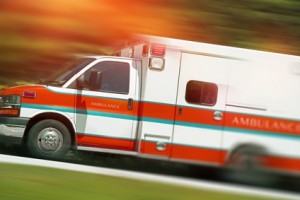 Falls are a very real risk for seniors, and particularly for those who are living independently. Fortunately, new fall detection technology in medical alert systems can help minimize the risk by getting emergency medical assistance to seniors as quickly as possible after a fall.
Fall Statistics for Seniors
Falls are the second leading cause of injury-related death among people ages 65 to 84 and the leading cause of injury-related death among individuals ages 85 and older. Every year in the U.S., one out of every three people over the age of 65 will suffer a fall, and half of those individuals will fall more than once, as reported by the National Floor Safety Institute (NFSI). Falls are the cause of 87% of all fractures among people over the age of 65. In a recent year, 1.8 million seniors were treated for falls in emergency rooms across the nation.
New Fall Detection Technology
One of the risks for seniors living independently is that they may not be able to summon help quickly after a fall. Medical alert buttons in pendants worn around the neck or bracelets on wrist provide a means to contact a medical alert call center when a senior takes a fall and cannot get up off the floor to call for help. But what happens if the victim loses consciousness as a result of the fall?
That problem is solved with advanced fall detection features in medical alert systems. In a system with built-in fall detection, special sensors in the medical alert pendant detect when a fall occurs and automatically send a message to the medical alert monitoring center. Even if the fall victim is unconscious, GPS and cellular technology allow the operator to pinpoint the person's location and send emergency medical assistance immediately.
The statistics speak for themselves – seniors suffer more falls than younger individuals. Falls can cause serious injuries, particularly to the elderly, and when they occur, prompt medical attention is of the utmost importance, and can make the difference between life and death. Medical alert systems with fall detection technology offer an added layer of protection for you or your loved ones, with the security of knowing help is on the way in a fall incident that renders the person unconscious or otherwise incapacitated.