BLOG /
Medical Alert Systems
Healthy Seniors: Diet and Exercise Matter
By Paul Gamber |
12481
Views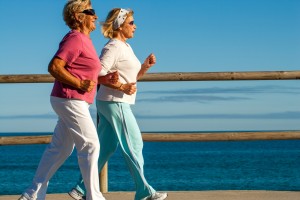 It's never too late to make lifestyle changes to improve your physical health. These positive changes in caring for your body can lead to a longer, happier life and increase your ability to remain independent in your later years. Unfortunately, many older adults live with various physical limitations or health challenges, but taking proactive steps to improve your overall health with diet and exercise can have long-term effects, and can even improve or eliminate many health conditions.
All too often, seniors don't seriously consider their health and safety until after a medical scare or accident has already taken place. Protect yourself from falls and other emergencies with a wearable emergency medical alert, and talk to your doctor about a diet and exercise program that is right for you.
Meeting Your Dietary Needs
Many seniors seek their physicians' advice on how to lose weight and manage high blood pressure or cholesterol, while others are instead concerned about weight loss. If you have specific concerns, be sure to discuss them with your doctor. In general, try to incorporate these three elements into your daily diet:
Lean Protein. Losing some muscle mass is a part of aging, but a diet rich in protein can significantly slow the process. Egg whites, fish, chicken, and lean cuts of meat are great sources of protein without high levels of cholesterol-raising fat.
Fiber. Constipation and slowed digestion can be an issue for many seniors, which is why it's so important to incorporate sources of fiber like raw fruits and veggies, whole grains, and legumes.
Water. We may not typically think of water as a part of our "diet," but adequate hydration is crucial not only for healthy digestion, but for overall health as well. Drinking enough water will help keep you energized throughout the day.
Most seniors can benefit from avoiding foods that are high in sugars and fats – try to stick to fruits and vegetables, whole grain carbohydrates, and lean sources of protein, and avoid sugary, fatty treats and overly processed foods.
Exercise for Your Body and Lifestyle
A healthy diet should always be paired with an exercise plan that has been approved by a physician. Many different types of exercise can be both enjoyable and beneficial to your health, from walking or swimming to sports like tennis and golf. If you're interested in joining a gym or taking community classes, you may be eligible through your insurance for Silver Sneakers, a program that provides seniors with free access to fitness resources.
Consider scheduling regular walk or yoga class with a friend – not only will you be more likely to follow through, but the social interaction is great for your mental health! If you plan to go on walks or exercise alone, you may want to consider an emergency medical alert, so that you can easily call for help should an unexpected accident or health emergency occur.
Stay Safe and Connected 24/7
Modern seniors value their independence, and many prefer to stay living in their own homes for as long as possible. Wearable emergency medical alerts, typically in the form of a pendant or bracelet with a button, are designed to keep seniors safe, even when living alone or moving independently through the community. In case of a fall or other emergency, and the senior is unable to reach a phone to call for help, a simple press of the button will connect them with an operator and/or send emergency services to their location. Some even have built-in fall detection and will seek help when a sudden movement is detected, even if the button isn't pushed. Read our reviews page to learn more about the different options available and select the emergency medical alert that is right for your lifestyle.