BLOG /
Medical Alert Systems
New Technology Makes Medical Alert Systems More Effective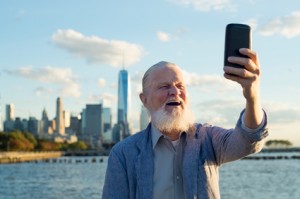 Most senior citizens today intend to live out their lives in their own homes if at all possible, and with good reason. Living independently allows greater comfort and more options, such as setting your own schedule, choosing your own activities and friends, and living the life you prefer, on your own terms. Independent living does not come without risks. However, new technology has made medical alert systems more effective than ever to help minimize the risk, and to set family members' minds at ease.
Changes for the Better in Medical Alert System Technology
An important technological advancement for active seniors is the medical alert system mobile device. Now you can have medical alert monitoring wherever you go, not only in your own home. The mobile medical alert unit is approximately the size of a deck of cards. Simply carry it in your purse or your pocket whenever you leave the house.
In the event of an emergency, press the medical alert button, either on the device itself on your medical alert pendant or bracelet. GPS technology allows the monitoring service to pinpoint your exact location, so they know where to send emergency assistance, even if you are unsure of the address of your location.
Wireless medical alert systems can save you the expense of a telephone landline, with the added advantage of being able to place your base unit anywhere in your home, instead of just near a phone jack. With a wireless system, there is potentially a lower risk of the system going down and becoming unable to send an alert, such as in a storm situation.
Another significant advancement in medical alert technology is built-in fall detection. Special sensors in your medical alert pendant automatically detect when a fall occurs and send an alert to your monitoring call center. Whether you are able to communicate or not, or know the address where you fell, new GPS and cellular technology allows the operator to determine your exact location and get emergency medical assistance to you faster.
Independent Living with Less Risk
Living independently has many advantages, but it also carries certain risks for people ages 65 and older. Falls are a leading cause of injury-related death among senior citizens. Due to the inevitable effects of aging, seniors face a higher risk of stroke and other health emergencies. New technology in medical alert systems makes it possible for seniors to "age in place" with a greater sense of security for themselves and their loved ones.