BLOG /
Medical Alert Systems
Senior Safety Protection with Medical Alert Bracelets
By Paul Gamber |
5607
Views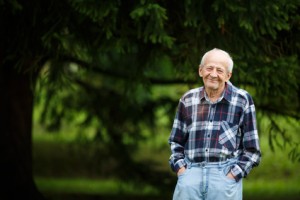 For many seniors, living independently is the ideal. You haven't worked hard all your life to sacrifice your freedom, privacy, and independence in your golden years. However, health and safety may be a real concern for senior citizens living independently. Your loved ones may worry about you, and you may have concerns about your own health and safety, as well. Wearing a medical alert bracelet can help protect you in an emergency and provide peace of mind for you and your loved ones.
How Medical Alert Bracelets Provide Protection for Seniors
Although maintaining a healthy lifestyle with good nutrition and regular exercise can help tremendously, the long-term effects of aging are inevitable. Bone density, muscle strength, dexterity, agility, and sense of balance are bound to diminish over time.
Statistically speaking, senior citizens are much more likely to suffer a fall than younger people. They are also more likely to suffer serious injuries in a fall, such as a broken hip, from which they may never fully recover. Older people are more prone to health emergencies, such as aneurysm, heart attack, and stroke. Seniors with diabetes or hypoglycemia face the risk of dangerously high or low blood sugar or diabetic coma.
Wearing a medical alert bracelet with an emergency button that links to a monitoring call center can provide an added degree of protection for seniors. Simply press the button in an emergency and your alert will automatically go through to the call center. Whether you are at home or out and about, the operator will send emergency assistance to your location right away.
Medical Alert Bracelet vs. Medical ID Bracelet
Some people confuse medical alert bracelets with medical ID bracelets, but there is a vast difference in the type of protection they provide:
Medical ID bracelets simply provide information. In an emergency, they serve to alert EMTs, healthcare providers, and others of a medical condition you may have, such as diabetes or an allergy to penicillin, in case you are unconscious or unable to speak for yourself.
A medical alert bracelet, on the other hand, is part of a monitored medical alert system. If you are wearing the bracelet when an emergency occurs, you can push a button on the bracelet to speak with an operator and have help on the way almost instantly. If your medical alert system provides mobile GPS technology, the operator can locate you, wherever you are, even if you are unable to speak or do not know your exact address. See our

comparison

to find a medical alert system with mobile GPS.
Medical Alert Bracelets: Peace of Mind for You and Your Loved Ones
If you are an older person living independently, it is natural for family members and the people who love you to be concerned about your health and safety. As we grow older, the risk of an accident or emergency health situation grows accordingly – but that doesn't mean you have to sacrifice your independence for safety. A waterproof medical alert bracelet worn on your wrist 24/7/365 can provide the added protection you need and give you and your loved ones greater peace of mind.