BLOG /
Medical Alert Systems
Best Medical Alert For Mom
By Mark Berman |
18025
Views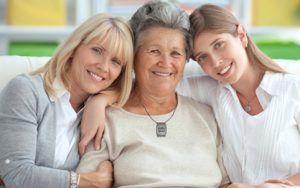 One of the best gifts you could give mom for Mother's Day is one that could save her life. Many of us have strong bonds with our mother and as we grow older, parents need their kids more than ever. First of all, if your Mom is anything like mine, she is a bit stubborn especailly when it comes to her health. However, she is now classified as a senior citizen and needs my support more than ever to give her tips that will keep her happy and healthy.
Even though she is in the elderly category, she is still very active and loves to take long walks with her dog around the neighborhood. She also loves going on lunch and dinner dates with her friends and even spending time by herself playing Candy Crush for what seems like hours. My mother has experienced falls and this is not uncommon, as it is estimated that 1 in 3 seniors will fall each year. In case that happen, it gives me and her pieve of mind knowing that she has a fall detection device to detect her fall and provide her the option to get emergency help if it's needed.
Mother's day is one of the most important holidays of the year, it's a time to say thank you to Mom for doing all that she did for us growing up and being there through every step of the way. Getting mom a medical alert system is something that will make her and the whole family feel good knowing that she is protected in the event of a fall or a medical emergency. Here are some things to think about when getting mom a medical alert system.
If your mom is active and on the go a lot. Then you would defintiely want to get Mom a mobile medical alert system with GPS. One that could track exactly where she is at all times and she can have on her at all times whether out in a restaurant or taking a late night walk with the Dog.
If your has experienced a fall or is over the age of 65, having fall detection is something that may important for your mother. Falling for seniors can be more harmful than a fall for younger people as bones are more brittle and more prone to break or fracture, which can leave serious damange or make it hard for your mom to get up. In this scary situation whether at home or away from home, having the medical alert button close by either around her neck in a necklace form or around her arm such as a medical alert watch, eached armed with an emergency alert button which will contact medical aervices right 24/7 to get help to come out to the hoem.
There are many offers on medical alarm systems all the time and we are here to ensure your mom get's protected and your family gets piece of mind. Simply compare medical alert systems and be sure to use a coupon code as many companies offer great additions such as free months of service, discounts on monthly prices, free medical alert system equipment, free lock box, free shipping which saves money, and an extra free medical alert button to keep around the house.
Don't wait until it's too late to give back and get a medical alert for mom or fall alert system for Mother's Day.