BLOG /
Medical Alert Systems
Seniors and Falls: Risk Avoidance Strategies for Senior Health
By Paul Gamber |
3577
Views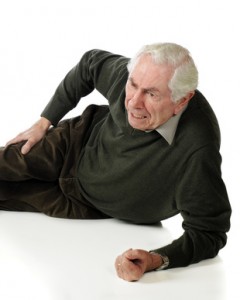 Per the CDC, one in four adults age 65 or older will experience a fall. These falls commonly result in serious injuries or even death. Therefore, it makes sense to take measures that can minimize these accidents. One very good way is by utilizing medical alert bracelets.
Medical alert bracelets feature an emergency call button. These buttons are often also available as a pendant on a necklace for those who would prefer that over a bracelet. A base unit for the system is installed in the home via a landline or cellular line and connected wirelessly to the bracelet or pendant. Whenever there is an emergency, a push of the button connects you immediately to an on-call, trained operator. Two-way communication can take place via microphones and speakers in the system. Depending on the specific situation, the operator can summon medical help for you and/or contact a relative or friend.
Advanced Features
Some systems also have fall detection, which means that the operator will be alerted that a fall has occurred without your having to even push the button. This can be very important if you are unable to speak or are unconscious.
There are also systems with GPS capabilities, which means that your exact location can be found by responders, whether you are at home or away. For those seniors who are active and leave their home to shop, visit friends, garden or golf, there are mobile systems that perform wherever they are.
Some Ways to Reduce the Risk of Falls
Of course, there are things you can do to minimize the risk of a fall in the first place. Some simple steps include:
Making sure there is ample lighting in the home, including stairways
Having secure railings on both sides of stairs
Installing grab bars next to toilets and in showers and tubs.
Seeing that obstacles are moved out of the way in well-traveled areas of the home
Check the reviews for medical alert bracelets, fall detection systems, GPS and more. Welcome to the new world of senior independence.