BLOG /
Medical Alert Systems
Aging Gracefully? How About Actively!
By Paul Gamber |
3668
Views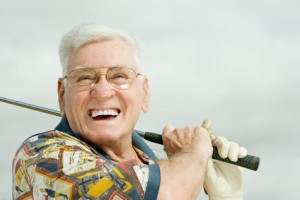 What, exactly, does aging gracefully even mean?
For many years, the phrase was a less harsh statement about getting older, looking older, yet to some degree still "hanging in there." Not very encouraging or flattering. But that was then and this is now. Today, more and more seniors age 65 and older are changing the old hidden meaning of this phrase and instead shining a light on its true meaning: seniors entering their golden years with verve, enjoyment, creativity and energy.
Today you are much more likely to find seniors (even those in their 70s, 80s, and 90s) playing golf, gardening, shopping, traveling and more. This is fantastic as there is no reason to slow down to a stop if you can be more active. And to this end, fall alert systems go hand in hand with this attitude.
Fast Emergency Response for Falls
Even though more seniors are staying active, it's inevitable that their bodies and minds will slow down, either a lot or a little. And since falls are more likely to occur to one in four people who are 65 years or older, it makes sense to have a safeguard against this possible crisis. Fall alert systems are a simple yet powerful way for a senior to contact emergency help immediately if he or she suffers a fall or any other emergency. The faster emergency responders can arrive at the scene, the better.
All you need do is have a small base unit installed in your home, connected via a land line or cell service. An emergency call button on a necklace, pendant, or bracelet is worn 24/7 (even in the shower or tub!). A push of the button immediately connects you with a trained operator, any time day or night. Speakers and microphones in the system enable two-way conversation. If emergency help is needed, the operator will summon an ambulance and EMTs to your location, and/or contact a friend or relative.
These systems also work outside the home for those seniors who are not home-bound. There are even fall alert systems that can detect if you have fallen without your having to push a button. It's possible that a fall might render you unconscious or otherwise unable to speak. The operator can still send medical responders to your location immediately.
Seniors: It's Time to Get Moving!
Seniors have much to look forward to these days. With medical breakthroughs making it more possible for more seniors to remain active, there's a whole new view on entering retirement and beyond. Backup systems such as these are literally life savers. Any senior who used to hold back due to fear of falling or having any other type of emergency can now look forward to "aging gracefully AND actively".
There are several different emergency systems available, which you can review here. Take a moment to discover how easy it is to jump into your golden years with an abundance of energy, activity and safety.