BLOG /
Medical Alert Systems
Living Independently is a Big Deal
By Paul Gamber |
3479
Views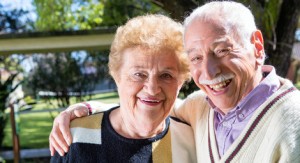 Joe and Ethel are both in their mid 70s. They still live in their own home and mutually take care of it. They also shop for groceries, cook, occasionally go out with friends, and travel to visit the grandchildren a few times each year.
Not Ready to Give Up Independence
After Joe had a small accident where he tripped and hurt his knee (requiring surgery) and Ethel's macular degeneration was worsening, their adult children started talking to them about moving to a retirement center, or hiring a caretaker. But they couldn't imagine not being in their own home nor having a stranger visit them daily. That's when they discovered med alert systems.
These systems are today's answer to keeping seniors safer while at the same time enabling them to remain independent and in their homes. A base unit is installed in the residence, connected to a landline or cellular service. You wear an emergency call button on a stylish necklace pendant or a bracelet. If there is any kind of an emergency, just push the button. Immediately, you are connected to a trained operator via speakers and microphones in the base. If necessary, the operator will at once summon emergency help, and/or contact a neighbor or relative.
Med Alert Systems: More Peace of Mind Wherever You Are
There are several different med alert systems on the market with different features and benefits. There are systems that function quite well just in the home, for those seniors who don't venture outside on their own. Then there are systems that can go with you outside, wherever you go. These are excellent for those seniors who, like Joe and Ethel, drive cars, shop, golf, garden and visit friends. Any emergency, such as a heart attack, seizure, stroke, fall, or burn, can be responded to very quickly. In fact, these med alert systems are easier and faster than trying to find a phone a dial a number.
Now Joe and Ethel feel they have a new lease on life. The peace of mind they have with their med alert system is beyond their expectations.