BLOG /
Medical Alert Systems
Even Short Falls Can Be Life-Threatening for Seniors
It is no secret that falls are serious business for seniors. Studies show a third of all seniors fall every year. Some 2.5 million emergency room visits annually are attributed to elderly people falling down. And the death rate from falls is steadily increasing.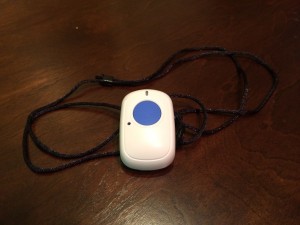 When looking at the above numbers, most people would likely assume they are from catastrophic falls — tumbling down the stairs or slipping violently in the bathroom. That is not the case. Even short falls can be deadly. Which is why a medical alert system with fall detection is a must.
Short falls are defined as a fall in which the person has both feet flat on the ground before the incident. Such falls were thought to be relatively harmless. That could not be further from the truth.
A study in The Journal of Trauma: Injury, Infection, and Critical Care found that people who are 70 years old or older who experience a short fall  are much more likely to suffer a severe injury compared to people younger than 70. And seniors are three times as likely to die following a short fall than younger folks.
"Our research shows that falls from low levels shouldn't be underestimated in terms of how bad they can be, especially in older patients," said Dr. Julius Cheng, associate professor in the Department of Surgery at the University of Rochester Medical Center and lead author of the study.
There are ways to minimize the risk of falling. They include making sure the rugs in your home are secure so they do not slip out from under you. You can install grab bars in your bathroom. You can make sure your eyesight is checked so you have the correct prescription. You can ensure that your medications do not interact and cause dizziness.
But you might take all of these precautions and a fall will happen, anyway. And in those cases, you will want to make sure that your medical alert system includes fall detection. With this system, your medical alert pendant will detect that you have fallen and automatically call the monitoring center. If you tell them you have fallen and need help, or if the fall has left you unable to respond, help will be dispatched immediately.
Multiple studies show the sooner you get medical help after a fall, the more likely you will be to make a full recovery from your injuries. So when you shop for a medical alert system, ask if it comes with fall protection option (not all of them have the technology).  It could save your life some day.