BLOG /
Medical Alert Systems
Exciting New Technology: Medical Alert Watches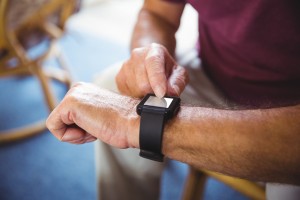 Modern technology continues to bring more effective health and security systems for seniors. The latest generation of systems now being developed includes medical alert watches that track your location, along with a range of impressive emergency features. A wearable medical alert watch appears to be a standard timepiece, but is a wrist-worn sensor that tracks motion and provides a feature to signal to alert emergency personnel or automatically connect with your list of contacts or alert emergency services should a health issue occur.
Active Seniors: A Medical Alert Watch with the Features You Need
Modern seniors are far more active than in earlier generations and are often busy with activities outside the home. A standard home medical alert system does not provide the level of security that is achieved with GPS technology. Wearing a medical alert watch provides a range of convenient features, including scheduling, daily step tracking, and reminders, and a simple button push to alert a medical response team directly to your location – no matter where you are. Rather than the older versions of pendants or bracelets, a medical alert watch looks and functions like a standard timepiece, but offers unique features that are perfect for seniors on-the-go.
Senior Medical Alert Watch for Increased Security
Many older people have real concerns about health and safety but want to continue to lead a full, independent life for as long as possible. A medical alert watch is the perfect system to protect against a health emergency occurring at a location outside the home. The GPS tracking feature makes it possible for your exact location to be identified should you need help while outside the home, such as a fall, heart attack, stroke, or other critical health emergency.
Discreet Safety Functions
Rather than wearing a more obvious alert system, these watches appear to be a watch, and function like a timepiece, but offer a range of advanced security options. The options now available can provide the following list of safety features:
Changeable wristbands to match personal style
Beacon features for in-home wear
Wrist mobile phone
Wireless charging
Daily planner
Medication reminders
Push-button emergency response
Motion tracker to identify the wearer as sitting, running, standing, walking, or lying down
Remote access for concerned family members
What Medical Alert Watch is Right for You?
The expectation is that these systems will soon be a favorite for active seniors who live independently but want to stay safe, no matter where they go. Whether you are shopping, on the golf course, out for a nature walk or any other activity, you can be confident that your location can be identified and an emergency response team dispatched should you need help. To determine which medical alert watch has the features you want, watch for the latest developments reviewed on medical alert comparison, where the features for these systems, as well as others, are displayed in an easy-to-read format.
Automated Features for Senior Health and Safety
Seniors don't want to trouble their loved ones and prefer an independent lifestyle. If you have concerns about the health and safety of an elderly loved one, you can gain peace of mind with a medical alert watch with remote access via the cloud. If you live in a different area, or even across town, the ability to know your loved one is safe, whether in the home or out and about allows you to go about your day with confidence.
Independent Living: It's Good for You
Many older people take care of their bodies by eating a healthy, nutritious diet, regular exercise, and the following doctor's orders by taking various medications and supplements. It is well established that an active lifestyle is good for your health. Staying active keeps you engaged, keeps the brain active, and provides much-needed social interaction. To continue to have a fruitful, productive life, find out more about how you can stay safe, or keep your loved one safe, with one of the latest generation of safety devices — a medical alert watch.