BLOG /
Medical Alert Systems
Lifelong Learning: Seniors Take to the College Campuses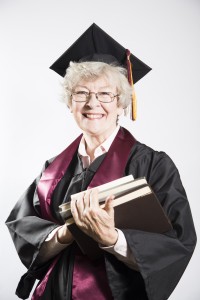 It's never too late to learn something new, and many seniors are taking college courses as part of their quest for lifelong learning. Even though university is often thought of as predominantly for younger adults in their late teens and early twenties, taking a college course or two is a great way for a senior to keep their mind sharp, make social connections, and explore interests that they may not have had time for before retirement.
College Course Options for Seniors
Just as for any student in the 21st century, there are several different ways that seniors can access college courses:
Traditional in-person classes. This is the typical format of enrolling in a course and then showing up at a set time each week to learn with a group of students. Many schools offer discounts or free tuition for adults over the age of 50 or 60.
Online courses. If no nearby courses are available, or health or transportation issues make commuting to a college or university an impractical option, online classes can be a great alternative. Many senior centers offer seniors help with using technology.
Auditing Classes. Many colleges and universities allow students to "audit" classes, or attend without receiving credit for lower or no cost. Homework and exams are usually not required when auditing; the senior can simply "sit in" on lectures.
Med Alert Systems to Keep You Safe and Active
Most seniors want to continue to be actively involved in their communities and learn new skills, but many are held back by concerns regarding health and safety. What if a fall or other adverse health event happens, and they are unable to call for help? Wearable med alert systems can alleviate these fears by ensuring that help is always close by. Med alert systems typically come in the form of a bracelet or pendant with a button that will connect you to an operator or emergency services when pressed. Don't let the fear of a health issue keep you from learning new things and experiencing everything your community has to offer: check out our review page to compare different types of alert systems and decide which might be best for you.