BLOG /
Medical Alert Systems
Falls, Health Risks, and Keeping Your Loved Ones Safe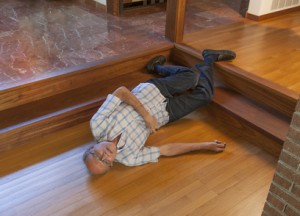 It is natural for family members to worry about their elderly loved ones who choose to live independently. No one is immune to the effects of aging, and senior citizens face higher risks of stroke, heart attacks, and other health emergencies. The risk of a fall is also very real among senior citizens. The National Floor Safety Institute (NFSI) reports that one of every three people over the age of 65 will suffer a fall, and half of those who fall will do so more than once. You can rest easier knowing that, in case of an emergency, a medical alert system can bring help to your loved one right away.
Medical Alert System Features
Modern technology has made medical alert systems more effective than ever for keeping loved ones safe. Features to look for in a medical alert system include:
Medical alert necklace or bracelet: Whether your loved one wears a bracelet or a pendant is a matter of personal choice — the important thing is to wear it 24/7/365. The senior simply presses a button on the pendant or bracelet to speak with a monitoring center operator and get help on the way in the event of an emergency. A pendant might be the better choice in case of a stroke, as it can be accessed with either hand. Medical alert bracelets and pendants are waterproof, so they can be worn in the bath or shower.
Cellular options: In the past, all medical alert systems were connected to a telephone landline. Now cellular options are available for mobile medical alert systems. This is particularly important for active seniors who are out and about on a regular basis. A mobile medical alert system unit will fit in a pocket or purse and allow a senior who is ill or injured to summon emergency assistance, no matter the location. Choosing this option can save the expense of a paying for a landline.
GPS technology: With GPS technology, a medical alert system operator can pinpoint a senior's location and send help right away – even if the ill or injured person is unconscious, disoriented, or unable to provide an exact address.
Fall detection technology: With fall detection, special sensors in a medical alert pendant detect a fall and automatically alert the medical alert monitoring service. Even in the senior who fell is unconscious or incapacitated, an operator can have emergency medical assistance dispatched immediately when the device transmits a fall alert.
Choosing a Medical Alert System to Keep Your Loved One Safe
The best medical alert system is one that provides the most safeguards under the greatest number of circumstances in your elderly loved one's life. A medical alert bracelet or pendant should be worn constantly, around the clock. A mobile medical alert system is a good choice for active seniors, who would otherwise only have medical alert protection while at home. Fall detection could also be a life-saving choice, as approximately one-third of all seniors suffer a fall every year. See our comparison to find the medical alert system that best suits your loved one's needs.