BLOG /
Medical Alert Systems
History of Medical Alert Systems
Burglar alarms have been around pretty much since the dawn of time — dogs were used to protect households, barking when an intruder was near. Obviously technology has gotten better since those days. And those advances helped lead to the invention of medical alert systems.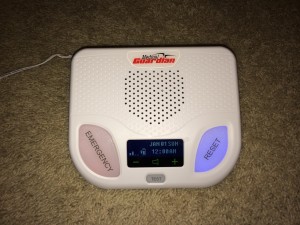 The invention of the first medical alert system is credited to a German named Wilhelm Hormann. His early 1970s "Hausnotruf" is very different from today's medical alert system. Hormann hoped to use his system to relay urgent biomedical data, as well as the social communication commonly used today. In 1980 a German company was able to realize some of Hormann's dreams.
However, the Americans beat the Germans once again. In 1975 a California company called American International Telephone Corp. offered a medical alert system similar to Hormann's. It featured a person wearing a medical pendant that when pressed, would automatically call a series of preprogrammed telephone numbers.
It was not until the 1980s that today's system with a live, medically trained operator was instituted.
Medical alert systems came into everyone's consciousness in the late 1980s and early 1990s with the introduction of the "I've fallen and I can't get up!!" lady. The television commercial for a company called LifeCall took the nation by storm. It turned a very serious and potentially tragic moment into a punchline. But along the way it educated the public on exactly what a medical alert system is and how it could save your life some day. The entire industry owes a debt to "Mrs. Fletcher" and the actress who delivered the line so perfectly.
Today's medical alert systems are highly technologically advanced. In addition to being completely wireless (except for the power cord on the base unit), there are also systems that are mobile. Built-in GPS and cellular technology allow you to be covered everywhere you go.  We've come a long way from barking dogs and the dream of one German fellow.
Over the years, many different forms of medical alarm devices have been developed.   To help you understand how each of them work, we've created list of all the medical alert systems including features, prices, and  range of the devices.  Throughout our site, you can also find video tutorials, reviews of the alert equipment, latest offers and deals,  installation information, and lists of medical alert companies with the best reputation in the personal emergency response system industry.
In-Home Medical Alerts
Without Monitoring Services – A medical alert that doesn't have a monitoring center is one that can only communicate either with one-way or two-way communication with another device.  These are used to contact family members in the event of a medical issue but do not contact emergency authorities  such as EMS, ambulance, police, or fire departments.
With Monitoring Services – Not all monitoring centers are created equally.  It's important to note that some are based in the United States and some are located outside the US., which can effect the call reception and quality.   Many monitoring centers that have received a UL certification or have become CSAA Five Diamond-certified to ensure they meet the highest standards and qualifications for a 24/7 emergency call support facility.
Mobile Medical Alert Devices
There are many different types of mobile or on-the-go.  These units allow for you to take them with you outside of the home where you may want to go.   Some use GPS (Global Position System) or WIFI enabled tracking services to pinpoint your exact location in the event of an emergency button press.
Some of the different types are listed below.
Medical Alert Watch – One of the most recent advancements in the personal emergency response industry has been medical alert watches.   Many seniors were becoming self conscious or insecure about wearing a life saving device around their friends or family.   The watch alleviated those concerns in a major way they are very stylish and people can't even tell the watch is a medical alert device.   In addition, alert watches can customized with different color bands and come stacked with many useful features including, pill reminders, day planners, weather, and low battery alerts.
Medical Alarm Necklace or Pendants – Before watches, one of the most popular medical alert units was a necklace or pendant to be worn around the neck.  These necklaces could be easily tucked underneath the shirt to keep them more discreet for seniors or the elderly,
Emergency Medical Alert Button – These are your typical help buttons that can be a big button on the base unit or the alert button could be on a necklace, wristband, or watch.
Medical Bracelets – A Medical ID Bracelet is not to be confused with a medical alert system.   Instead medical bracelets are more considered engraved jewelry that contains your emergency contact information on your wrist band.   These ID Bracelets can be used for women, men, and kids.  They can come in different styles included stainless steel, gold, or sterling silver jewelry.
Panic Buttons – These buttons can be used in a general home security system and can be a silent alert button in the house to contact the police department.
Caregiver Help Button System 
In addition to a medical alert, pagers and nurse alert buttons were invented for two-way communication between a care giver and a patient.   These help button systems will alert a nurse of a potential problem and have the ability to speak through the system, however, they are not monitored by a 24/7 support center to connect you to emergency authorities such as Ambulance, EMS (Emergency Medical Services), Fire or Police Departments.
Fall Detection Alarm System
Recent data has shown that 1 out of every 3 seniors will fall each year.  Fall Detection alert devices were developed to help seniors and elderly stay safe in the event of a fall.  The button would detect a fall from a sofa onto the ground or a larger fall, and start to beep.  In the event that an elderly person couldn't get up from the fall or was knocked unconscious, the button would connect to emergency services.    While these systems are not full proof, they could prove very useful in the event a fall and potentially save a life.