BLOG /
Medical Alert Systems
Making the Most of Your Retirement Years
By Paul Gamber |
12453
Views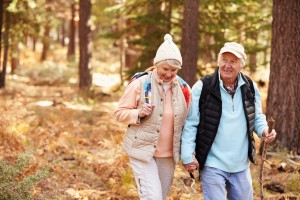 While facing the daily grind, working long hours, and saving for the future, many people look longingly to retirement. When our working years are over, we can set our own schedules, pursue our own personal interests, start spending the money we've been saving, and focus on enjoying life.
The Golden Years should be happy years, as they are for most people. The following tips can help you make retirement more rewarding:
Ensure sure you have a comfortable nest egg: There's no doubt that money can make a difference. Retirement is more enjoyable when without worries about finances.
Consider working part-time: Voluntarily working part-time can help keep you engaged and active, as well as contributing to your financial security.
Take classes: You're never too old to learn. Enroll in classes on subjects that pique your interest, whether it is cooking, art, jewelry making, salsa dancing, or learning a new language.
Find hobbies to pursue: Hobbies, such as travel, tennis, golf, or dancing provide the opportunity to stay active, meet new people, and socialize.
Cultivate new and old relationships: Retirement makes it possible to devote more time to the people you care about, nurture friendships, and make new connections.
Get organized: Clean out the clutter and simplify your life to free up time for the things you enjoy and make your home environment safer.
Maintain a healthy lifestyle: A healthy diet and regular exercise can help you feel better mentally and physically, and gain a greater level of enjoyment during your retirement years.
See your doctor regularly: Get regular checkups for early detection and treatment of any health conditions.
Emergency Alert System for Peace of Mind in Retirement
One disadvantage of retirement is that people age 65 and older are more susceptible to medical emergencies, such as heart attack, stroke, and falls. Fortunately, active retirees today have the benefit of sophisticated emergency alert system technology. Even if you are on-the-go and away from home, you can get help on the way with the push of a button on a bracelet or pendant with a mobile emergency alert system featuring GPS tracking. Look over our medical alert reviews for help finding the right emergency alert system for you.