BLOG /
Medical Alert Systems
Fall Alarms for Seniors
You have probably heard this before — a third of all seniors in the United States will suffer a serious fall every year. The statistic could be dismissed as a cliché if it were not so serious. That is why medical alert systems with fall alarms could potentially save your life some day.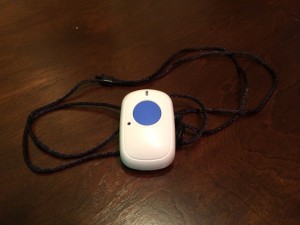 We are not overstating this. The Centers for Disease Control and Prevention reports that falls are the leading cause of both fatal and non-fatal injuries among seniors. Even if you are lucky enough to suffer just a minor injury, it is common for seniors to then develop a fear of falling, which causes them to curtail their activities. So even a routine fall could have a drastic effect on how you live the rest of your life.
That fear of falling is even worse among seniors who live alone. After all, if you fall and cannot get up to call for help, what will happen to you? How long will it be before someone comes to check up on you? And will it be too late by that point?
Medical alert systems with fall alarms can alleviate this fear. With this option, sensors that can detect a fall are placed in the medical alert pendant you would wear around your neck. In the event of a fall, a signal would be sent to the base unit and a call would automatically be placed to the central monitoring facility. If you are unable to communicate with the monitor, the system is set up so that help would be sent immediately.
It should be noted that some medical alert companies do not offer fall alarms. They say the technology is unreliable and results in false alarms and falls that are not detected.
However, a number of providers disagree and say fall alarms work perfectly. It is definitely something to consider.