BLOG /
Medical Alert Systems
Medical Alarm Monitor Options
When you begin shopping for a medical alert system, you will quickly learn that the systems can range from the simple to the complex. Here are some medical alarm monitor options that you might want to consider.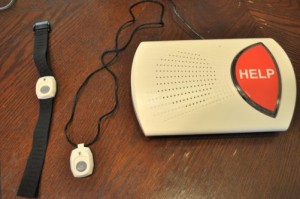 Let's start by saying that you do not have to choose any options at all. You could go for a basic system. You would need a traditional phone line or an Internet-based telephone, also known as VoIP (Voice over Internet Protocol), to connect your base unit with the central monitoring center.  You would get one or two medical alert pendants depending on how many people need monitoring. And that would be it.
Certainly such a system would offer you complete protection, but it does not have the bells and whistles you could get with other medical alarm monitor options.
For instance, if you do not have a regular phone line, you might want to opt for a cellular system. In this system, cellular service is built into the base unit, which connects wirelessly to the monitoring center. In addition to not having the added cost of a telephone line, many argue that cell service is more reliable than the old wired systems.
If you think you might be susceptible to falls, you might want to consider a medical alarm monitor with fall protection. Sensors built into you pendant would detect if you fall and send a signal to your base unit, which would then automatically call the monitoring center. This could save your life if you fall and cannot get up and call for help.
If you are a more active senior, you should consider a mobile medical alarm monitor. The base unit is about the size of a deck of cards and it is battery-powered so you can take it with you wherever you go. Built-in GPS technology would tell the monitor exactly where to send help in the event if an emergency.
The medical alarm monitor industry is keeping up with technology and the changing lives of seniors with these options.