BLOG /
Medical Alert Systems
Seniors Make the Best Mentors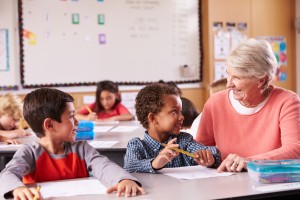 As a senior, you've spent decades on the earth, accumulating knowledge and wisdom. But now that you're retired, how can you put all that experience to good use? One way that seniors are finding a way to give back is by participating in mentorship programs that connect them with young people in their communities. Mentors offer guidance, support, and a listening ear to young people who may not have other role models in their lives to look up to. Benefits of these programs include:
Better outcomes for youth. Numerous studies have demonstrated the benefits of inter-generational mentoring relationships for underprivileged youth, some of whom do not have many positive adult role models.
Seniors stay active and connected.

The Corporation for National & Community Service

has well documented the health benefits for seniors who stay active by volunteering in their communities. Staying connected in this way can also fight off the feelings of isolation that many seniors struggle to deal with.
Safety First: Senior Medical Alert Systems
One factor that holds some seniors back from participating fully in their communities is their worry about medical vulnerability. What if something happens while they're out and about, or they fall, are injured, or are unable to get up? Especially for seniors who live alone, these fears are all too real. With a senior medical alert system, you can put some of your fears to rest by ensuring that help is always just the push of a button away.
These systems are connected to a base in the home and operated through a landline or cellular service, so that a push of a button will connect you within seconds to an operator who can send help in the form of an ambulance or a trusted friend or neighbor. Devices in pendants and bracelets are stylish and inconspicuous, and allow older adults to pursue the activities they want to without the fear of a fall or other type of health emergency. Many also offer automatic fall detection, so that a sudden movement will prompt a call, even if you are unable to signal for help. Different models also include GPS tracking for fast and effective response.
Reading through the reviews of some popular senior medical alert models can help you decide which option is the right fit for your lifestyle.