BLOG /
Medical Alert Systems
The RV Gang: Seniors on the Road
By Paul Gamber |
12894
Views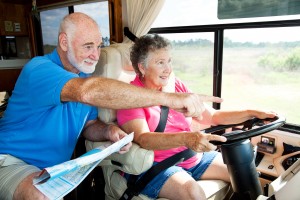 Retiring Baby Boomers make up a new active generation of older Americans. These savvy seniors are embracing recreational vehicles as a convenient, comfortable, affordable way to enjoy the experience of being on the open road.
Many active retirees today want to expand their horizons through travel. RVs are a fun, economical, hassle-free way to travel that allows seniors to see the country and meet new people.
RVing has become popular among older Americans because of the freedom and flexibility this mode of travel has to offer. Retirees in RVs can come and go as they please. As long as they are enjoying their current location, they can stay. If that changes, they can pack up and move on. Many older adults on the road use their RVs as guesthouses when visiting family and friends or pursuing sightseeing and hobbies.
Senior Camping Clubs
Camping clubs are particularly popular among seniors with RVs. These clubs hold camp gatherings, conventions, regional rallies, and other events that foster a sense of community and provide an active social network of friends with common interests for older adults. Senior RVers in camping clubs can enjoy expanded facilities in campgrounds and RV parks, including:
Tennis
Golf
Exercise classes
Arts and crafts
Social events
Retirees Following the Seasons in RVs
"Snowbirding" is an aspect of RV travel that attracts many seniors. Retirees with RVs are free to travel south for the winter or migrate north to cooler climates during the hot summer months. The Good Sam Club provides information about RV-friendly snowbird destinations in 15 different states along America's Sunbelt.
RVs: An Affordable Way to Vacation and Travel
An important advantage of RVing is its affordability. Even factoring in the cost of owning or renting an RV, the cost is significantly less than traveling by plane, train, or automobile. This difference in cost can be partially attributed to savings on hotels and restaurants.
RV parks that offer amenities such as cable TV, Wi-Fi, restrooms with showers, and laundry facilities charge approximately $20 to $50 a night, depending on the location, with discounts available for longer stays. Members of AARP, Good Sam Club, or active and retired military seek out deals such as 10% discounts on overnight camping costs. In contrast, the average daily rate for a hotel room in 2016 was $177.36, according to an article in Business Travel News.
Fall Alert Systems for Senior RVers
As reported by the Centers for Disease Control and Prevention (CDC), every year, millions of Americans ages 65 and older suffer a fall. One out of every 5 falls results in serious injury, such as a head injury or a fracture. Seniors on the road in RVs are at no less risk of falling than older people who stay at home.
The good news is that state-of-the-art fall alert systems that travel with you are now available. This makes it possible to get help on the way immediately with a simple push of a button on a pendant or bracelet, no matter where you happen to be when a fall occurs.
Mobile cellular-based systems can go where you go. GPS tracking allows the operator who answers your alert to spot your location, so you are protected even if you are not sure exactly where you are. Some fall alert systems come with built-in fall detection, so an operator is automatically alerted, even if you are unable to function or speak after a fall.
Modern fall alert systems come with different equipment, features, and pricing options. Our medical alert comparison provides key information in an easy-to-use format to help you compare different systems and choose the one that best suits your needs.