BLOG /
Medical Alert Systems
Age is a State of Mind, Right?
By Paul Gamber |
3997
Views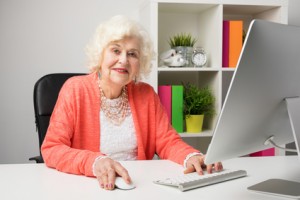 Mavis, a widow, had been anticipating her retirement from her corporate job for a few years, and now it was going to happen in a week. She had many plans that included travel, exercise classes, and taking up painting.
The day before her retirement, however, she suffered a heart attack while at home. Her son found her a few hours later and called an ambulance. Luckily, Mavis survived her heart attack, but it was close. It was in the hospital that she then learned about medical alert buttons.
Medical Alert Buttons: Get Help Faster
These buttons are devices that you wear as a necklace pendant or bracelet, and if an emergency arises, you only need to push the button to get immediate help. A base system is easily set up in your home, connected to a landline or cellular service.  The button allows instant connection to a 24/7, 365-days-a-year operator center. A two-way conversation can take place between you and the operator via the base, and emergency help can be sent immediately. The operator can also contact a pre-arranged friend or neighbor as well.
One of the many advantages to medical alert buttons is that they eliminate the need to find a phone, dial a number, and maybe reach someone quickly. The button connects you immediately, meaning fast response times, which can be crucial. They are waterproof and can (and should) be worn in the tub or shower.
Some systems also work outside the residence, so if you are out shopping, gardening, golfing, or walking with friends, a small mobile unit that fits in your pocket or purse functions the same way the medical alert buttons do.
Seniors Keep Moving–Safely
Mavis was lucky. If her son had not happened to stop by, it could have been much more serious—even fatal. Now she tells her friends about getting their own emergency buttons, and she is happily pursuing her retirement dreams and not letting age slow her down.
Find out more how these life savers can keep you enjoying your golden years while keeping you safer.