BLOG /
Medical Alert Systems
Alert 1 Medical Alert System
By Mark Berman |
4312
Views
We have reviewed the medical alert system from Alert 1 before, and we walked away quite impressed with its service. But in the ever-changing medical alert world, it is time to take a renewed look at the company.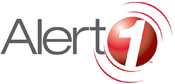 One thing that is new since our review is that Alert 1 is now offering a wireless medical alert system for those seniors who no longer have standard telephone lines. Alert 1 has an option for a base unit with cellular technology built right in, negating the need for an old-fashioned telephone.
This is very helpful because with so many people ditching their landlines in favor of cell phones, people can now have a medical alert system from Alert 1 without the added expense of a telephone line. The option costs a little more than the standard medical alert system, but it is still cheaper than paying that unnecessary telephone bill every month.
Alert 1 is a solid company, It claims on its website that it is "one of only a few medical alert companies in the U.S. that works with healthcare professionals to provide medical alert systems to their patients." Some 10,000 health professionals refer patients to Alert 1 when asked for a recommendation.
Alert 1 has been in business for more than 25 years and currently has 200,000 satisfied customers, making it a major player in the industry.
One potential drawback is that Alert 1 does not offer fall protection. That is not unusual; many companies just do not think the technology has reached the point of reliability. Alert 1 says that while developments in fall protection seem "promising," it is not ready to offer it to its customers.
Otherwise, Alert 1 offers quality service that measures up to any of its competitors. If you are looking for a medical alert system, you cannot go wrong in choosing Alert 1.