BLOG /
Medical Alert Systems
Different Types of Medical Alert Buttons
By Mark Berman |
5124
Views
Perhaps the most integral parts of medical alert systems are the medical alert buttons that seniors always wear. After all, if there is a medical emergency that renders a person immobile and they cannot contact the monitoring facility from where they are, what good is the entire system?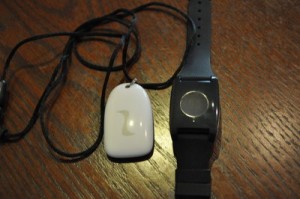 Here is how medical alert buttons work — when the button is pressed, a signal is sent to the base unit and a call is placed to the monitoring center. When the call is connected, the senior speaks to the monitor through the base unit.
Medical alert buttons can be worn either as a necklace or a bracelet. Many seniors report feeling self-conscious about having to wear an alert unit and this keeps them from getting a much needed medical alert system. But some companies offer medical alert buttons that look more like pieces of jewelry than a medical device, so your secret is safe!
The newest technology in alert buttons allows people to communicate with the monitor directly through a microphone and speaker built into the pendant. That is a great advantage; a senior does not have to shout towards the base unit in order to be heard. However, these pendants are larger than the usual medical alert buttons, which might turn some people off. Also, this technology only comes in a necklace, not a bracelet. Many seniors, mostly men, would much rather wear a bracelet than having something hanging off of their necks.
In addition to the medical alert buttons that are always worn, seniors can opt to have wall mounted buttons scattered throughout the house. Many people have one installed in the  bathroom since that is the place where so many accidents happen. Alert pendants are waterproof so they can worn in the shower, but a wall mounted option in the bathroom cannot hurt.
The best advice about medical alert buttons is this — always wear it. You never know when an emergency will arise.