BLOG /
Medical Alert Systems
Senior Scammers – What to Watch For
By Paul Gamber |
18403
Views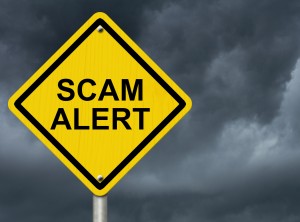 The National Council on Aging (NCOA) reports that scams targeting seniors are so prevalent that they are considered the crime of the 21st Century. These scams are thought to be low risk crimes because they are difficult to prosecute and often go unreported. On the other hand, senior scamming can be devastating to the older adults who are targeted in these scams.
NCOA provides a list of the top financial scams perpetrated against seniors. Whether or not you have been a victim in the past, knowing what to watch for can help you avoid the pitfalls in the future.
Medicare/Health Insurance Scams
Medicare scams often occur as identity theft, when someone pretending to work for Medicare obtains confidential information from a senior citizen. This may include the senior's Medicare number, social security number, bank account number, and address.
A legitimate Medicare employee would already have that information on file. If someone claiming to be with Medicare calls, emails, or visits you asking for personal information, it is likely to be scam.
Counterfeit Prescription Drugs
More seniors are going to the internet today to find lower prices on certain medications. Most counterfeit prescription drug scams operate on the internet. The FDA investigates 20 or more of these scams every year.
This senior scam is particularly dangerous. In addition to paying for something that is not their needed medication, seniors may suffer harm from taking counterfeit, and likely dangerous drug substances.
Funeral and Cemetery Scams
Seniors are being targeted with two types of funeral and cemetery fraud:
Scammers read the obituaries and call or attend the funeral service to take advantage of the bereaved widow or widower. They will try to extort money by claiming a debt owed to them by the deceased.
The second type of funeral and cemetery scam involves disreputable funeral homes who add unnecessary charges to the funeral bill. As an example, some unscrupulous funeral directors have been found telling a surviving spouse that an expensive casket is needed for a cremation, when an inexpensive cardboard casket will actually be more appropriate.
Fake Anti-Aging Products
Many older women and men are seeking new treatments and medications to help them maintain a more youthful appearance. Scammers take advantage of this market to pass off bogus anti-aging products, such as fake BOTOX and ineffective remedies for all types of conditions and diseases.
Telemarketing and Phone Scams
Scammers use fake telemarketing calls to prey on older Americans. As a group, senior citizens make twice as many telephone purchases than the national average. These scams are difficult to trace, as they leave no paper trail and there is no face-to-face interaction. To add insult to injury, the buyer's name may be shared with other scammers.
Internet Fraud
Older people are often victims of automated internet scams. Pop-up browser windows simulating virus-scanning software lure senior citizens into downloading either a fake anti-virus programs (at a cost to the senior) or an actual virus that is used to steal confidential information from the senior's computer.
Investment Schemes
This is a common method of defrauding older people. Many seniors are managing their savings and planning for retirement, which makes them more vulnerable to this type of scam. From pyramid schemes to complex financial products, seniors have long been targeted by investment scheme scammers.
Senior Medical Alert Systems
Despite the scammers, many legitimate products and services today are tailored to meet the needs of retiring Baby Boomers. Senior medical alert systems are designed to give older people peace of mind, knowing they can have help on the way in an emergency with the push of a button on a bracelet or pendant. See our medical alert comparison for information about senior medical alert systems available today.