BLOG /
Medical Alert Systems
Great Exercise Programs for Seniors
By Paul Gamber |
8624
Views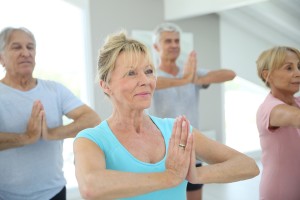 Staying physically active is one of the most important ways a senior can maintain their physical and mental health as they age. Regular exercise has been shown to decrease some of the most common health issues that seniors experience. Seniors at any level of fitness are at a heightened risk of falling and other injuries, so choosing the best medical alert system can be part of a holistic approach to maintaining health and safety over the "golden years."
Walking to Maintain Health
Even walking for just 10-15 minutes per day provides a wide range of health benefits. Walking is a cardiovascular activity that improves circulation, strengthens muscles, slows the deterioration of bone mass, and improves balance and posture. Each of these benefits can help make it less likely that a senior will suffer a serious fall or other injury. Walking can also be a great social activity when done with friends, and it helps to keep the mind sharp. Especially when walking alone, make sure you have your medical alert system with you.
Swimming for Seniors
Swimming is another form of exercise that has immense health benefits for seniors. Swimming is a low-impact activity, which makes it beneficial and less uncomfortable for people who experience joint pain, and improves balance and core muscle strength, reducing the risk of falling.
Yoga, Pilates, Tai Chi, and More
Group classes like yoga and Pilates can be a fun way for seniors to maintain an active lifestyle. Group classes are often offered in gyms, through the local senior center, or at outdoor parks, and provide an opportunity to socialize as well as stay fit. These classes help improve balance, posture, strength, and flexibility. Learning the different postures has been proven to assist with memory and concentration.
Silver Sneakers
If you haven't already, check to see if you may be eligible for a free Silver Sneakers membership through your health insurance. Silver Sneakers is a fitness program just for seniors that has partnered with more than 13,000 locations across the country. Membership gives you access to countless classes, social gatherings, and gym facilities completely free of charge. Know what Silver Sneakers options or other subsidized exercise programs for seniors are available in your area, and choose a few classes to add to your daily routine.
Choosing the Best Medical Alert System
Even the healthiest, most active senior is still at an elevated risk of falling over a younger adult. For seniors, a sudden fall can result in broken bones, head trauma, or other serious injuries, and it could be impossible to reach a phone to call for help. Even a senior carrying a cellphone will need to punch in multiple numbers to contact assistance, which can be difficult if they are injured or in pain. A wearable medical alert system provides a senior and their loved ones peace of mind through ensuring that help is never more than a press of a button away. If concerns of falling are high on the list of concerns, the best medical alert system can feature built-in fall detection, which will immediately contact an operator if sudden movement is detected, even if the senior is unconscious, in pain, or otherwise unable to press a button on a pendant or bracelet.