BLOG /
Medical Alert Systems
Medical Alert Button: Crucial Equipment
By Mark Berman |
4473
Views
Every piece of equipment connected to your medical alert system is important, from the base unit to its backup batteries. But perhaps the most important is your medical alert button; after all, if there is an emergency and your press the button but nothing happens, your entire system is worthless.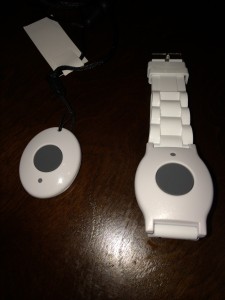 The way a medical alert button works is that when it is pressed, it sends a wireless signal to your base unit, which then calls the monitoring center. Within moments you are speaking to an operator who is there to help you. This is why the button is so important.
Given their importance, these medical alert buttons are made very well.  They are not just pieces of cheap plastic. Manufacturers understand that if your button fails, the results can be tragic.
Every medical alert button is waterproof because seniors should never take their pendants off, especially when showering or bathing because the bathroom is the place where seniors are most vulnerable to falls.
You can also wear your medical alert button to sleep. The odds are remote that you will roll over and accidentally press the button; they are set into the pendant and must be deliberately pressed. If you are not comfortable sleeping with a necklace on, make sure you keep the button within reach of your bed.
If you are not comfortable at all with the idea of wearing a necklace, you can always opt for a medical bracelet. It is the same technology except you wear it around your wrist instead of your neck.
Whichever you choose, make sure you change the batteries in your medical alert button at the prescribed times. If your battery goes dead, the button will not work in the event of an emergency and you could find yourself in a terrible place.