BLOG /
Medical Alert Systems
Medical Alert On The Go
By Mark Berman |
3696
Views
Medical Alert Systems Away from Home
The typical medical alert system is connected with a base station that has a speacker. If the system is triggered than the speaker on the base station connects to a trained operator which wil than connect to a relative or emergency services depending on the incident.
There are also mobile alert systems which work wirelessly. The Phillips Lifeline GoSafe system comes with a mobile pendant. When it is taken away from the base station the wirelss at&t feature kicks in,  allowing for you to call for help even when you are away from home. In this case the pendant itself becomes the speaker device.  The GoSafe ranges around $55 per month.
There are more affordable options such as the GreatCall Spalsh with a $20 monthly payment. This is cheaper although you do have to purchase the device and pay activation fees.
Ofcourse there are also other companies to look into. To name a few Consumer Cellular, Bay Alarm Medical, Medical Alert and Life Alert.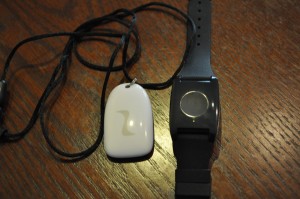 http://www.qgazette.com/news/2015-10-28/Seniors/Mobile_Safety_Products_That_Can_Help_Seniors_On_Th.html