BLOG /
Medical Alert Systems
Mobile Alert Systems for Seniors On-The-Go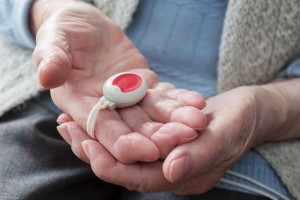 Alzheimer's and Dementia are a growing concern for seniors and their families. With more than 5 million Americans living with Alzheimer's and early onset Alzheimer's, these diseases heavily impact a person's ability to be independent and self-sufficient. Getting lost by wandering is a major concern for families of those suffering from Alzheimer's and other illnesses with memory loss as a symptom. Mobile alert systems allow you to identify the location of a wandering senior.
Fear of Falling
Even for seniors who do not have the huge challenges of an Alzheimer's diagnosis, fear of falling and medical conditions can keep an otherwise active senior fearful about leaving home. Medical alert systems have advanced in recent years, improving to provide specialized features that can keep seniors active, on their own, and out in the world. Some of these innovations include:
Waterproofing – to address slips and falls in bathrooms and pools
Automatic fall detection
Specialized support
Back-up battery systems in case of power outages
Wireless options
Cellular support
GPS tracking
Discreet pendant and bracelet options
Increased battery life
Medical alert systems with GPS are proving to be a powerful asset for seniors on-the-go. Tied to a cellular network, mobile alert systems can track location and notify emergency services in case of a fall or another medical emergency, such as heart attack or stroke. Automated fall alerts make it possible for medical assistance to be dispatched to the location (identified through the system) when the individual is unconscious or rendered unable to speak. These medical alert systems with GPS provide support and security for seniors who want to maintain their independence.
With discreet pendant and bracelet options available, medical alert systems can be easily worn without being obvious. Active seniors can have an added level of safety with a medical alert system with GPS. A simple press of a button connects them immediately with the 24-hour professional monitoring system and a live human being. Location can be identified through the GPS system for a fast response – often crucial in a medical emergency.
Falls and Other Emergencies
Falls and other emergency medical issues can occur suddenly, and in any location for seniors with an active lifestyle. Automatic fall detection tracks fast, jerking movements. This triggers the system to contact the customer at once, and to dispatch emergency services. In the event of a fall, stroke, or heart attack, where communication or traditional button-based alarm systems cannot be accessed as the individual is rendered unable to respond, these features ensure that help will be on its way when minutes and seconds truly count.
Safety Outside The Home
For the aging population, it can be more challenging to get out and engage in life outside the home or garden. Activity and independence are known to be important keys to health and happiness for seniors. As caregivers, it's vital that you encourage activity and interests taking place outside the home. Medical alert systems with GPS and other specialized features can keep seniors stay active, and keep them feeling safe. Compare the range of brands and features and read reviews to find the best fit help your loved one can retain an independent lifestyle while enjoying the security and support provided by modern medical alert systems.