BLOG /
Medical Alert Systems
New Tools for Caregivers
By Paul Gamber |
3563
Views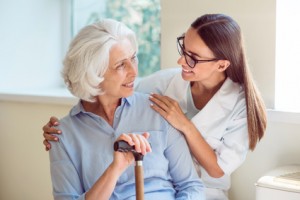 Here's a typical scenario. You are in the kitchen fixing dinner and talking with a friend on the phone. Your 87-year-old mother is in the living room, reading a book. She then decides to get up but struggles getting out of her chair. You don't hear her when she falls. It's only 30 minutes later, when you walk into the living room, that you find her on the floor.
In a panic, you try to find your cellphone, which takes a precious 5 minutes. When you finally do, you dial 911 but wait for several rings before it's answered. You describe what happened and an ambulance is called. By now, 45 minutes have passed since your mother took her spill. It's another 15 minutes before the ambulance arrives.
Medical Alert Systems: Faster Emergency Response
Now there's a much better way to help take care of your mother. Medical alert systems provide a watchful eye and fast connection to emergency help. A base unit is set up in the home, and the senior wears a pendant or bracelet with an emergency button. If there is a crisis, she can simply push the button. Immediately, an on-call operator will communicate through a microphone and speaker system. The operator, after finding out what happened, will call an ambulance.
Some medical alert systems have fall detection, meaning that the wearer doesn't even have to push a button to send a signal. The system can detect when an unusual movement has occurred and the operator will be alerted. If the person cannot speak for any reason, it doesn't matter. The operator will know to summon emergency help immediately.
Of course, medical alert systems are not only helpful when someone falls. Any type of emergency qualifies: heart attack, seizure, stroke, burns, medication reactions, etc. These lifesaving tools make it possible for seniors to be more safe with fast medical help available at the touch of a button. And for caregivers, it provides a safety net for anytime they cannot have "eyes on" their charge or loved one.
Check here for reviews of different systems and their features.