BLOG /
Medical Alert Systems
Senior Living at its Best
By Paul Gamber |
16226
Views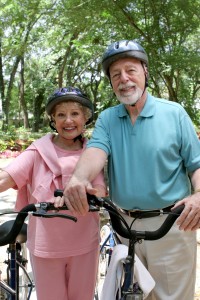 Without the pressures of the typical 40-hour workweek they were experiencing before retirement, many seniors find themselves with lots of free time and a flexible schedule. In retirement, older adults are finally free to explore interests and hobbies outside their chosen careers, sometimes for the first time in their lives. It can be an exciting time of life. Many seniors choose to travel, become more involved in their communities, and devote their time to hobbies like gardening, crafts, or art. Medical alerts for seniors make it possible to be safe while you enjoy the benefits of retirement.
Safety First for Happy, Healthy Senior Living
No two seniors are alike, and everyone chooses to spend their time in vastly different ways. One thing they all have in common is a need to stay safe and healthy while enjoying a range of fulfilling activities. Many older people experience health difficulties later in life, and anxiety about experiencing an injury or other emergency while out and about can hold seniors back from participating fully in their communities. Medical alerts for seniors can help relieve some of these important concerns. Some of the critical steps a senior can take to protect their safety and wellness include:
Developing healthy habits. Seniors should have regular checkups with a physician, and these appointments are a perfect opportunity to ask about dietary habits, supplements, medications, and exercise. Talk to your doctor about your daily routine and check in before making any drastic changes.
Adapting the physical environment. If you are starting to have difficulty moving or balance, a few simple adaptations to your home environment can make a significant difference in staying safe. If you live in a multilevel home, consider converting to a single level or limiting the use of the stairs. Adaptable showers and baths are known to prevent countless slip and fall accidents every year.
Ensuring help is always near. Even the healthiest senior following all recommended safety precautions can experience an accidental fall or other health emergency. Medical alerts for seniors are wearable devices that make it possible to contact an operator or summon help with the press of a single button.

Reviews

let you compare the features available in different systems.