BLOG /
Medical Alert Systems
Retirement Can Be the Best Time of Life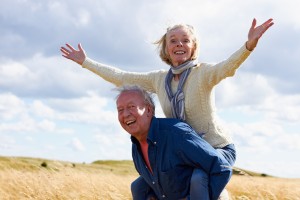 When you reach retirement age, your best years may still lie ahead. With a long career behind you, your children grown and independent, and your mortgage in good shape, now is your opportunity to experience the best of what life has to offer.
If you can cope with the challenges of aging and live within a budget, retirement can be the best time of your life for a number of reasons. For example:
You can have fun all week long and don't have to wait for the weekend: If you spent your working weekdays looking forward to 2 short days of freedom, you can rejoice knowing that, as a retiree, your weekend is 7 days long. Now, you can get out and do the things you like Monday through Friday, minus the heavy traffic and crowds, and stay close to home on the weekends.
You don't have to spend your time doing things you don't want to do: The freedom to do what you want may be the number one advantage of retirement. You get to decide what you do with your time, as well as when and for how long you do it.
You can learn about things that interest you: During retirement, you have the opportunity to learn for the pleasure of learning without worrying about a grade, certification, or credentials. You can enjoy interacting with other students in a classroom setting or take online classes in the privacy of your home.
Personal Emergency Response System for a More Carefree Retirement
Masking the most of retirement includes coping with the effects of aging. It is a fact that senior citizens have a higher risk of serious health issues, such as heart attack and stroke. According to the National Council on Aging, each year, 1 in every 4 Americans age 65 and older suffers a fall.
A personal emergency response system can help reduce the worry about health emergencies so you can focus on enjoying your retirement. Active seniors can take advantage of advanced technology in medical alert systems, including features such as mobile GPS and automatic fall detection. Our medical alert comparison can help you find a personal emergency response system with the features you need.