BLOG /
Medical Alert Systems
Seniors Go Tech Savvy
By Paul Gamber |
2660
Views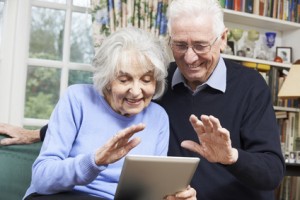 It used to be that as people entered their golden years, it was expected they would retire, slow down, and settle for a much more sedentary life. This scene has changed dramatically in recent years, however. With the advances in technology, more and more seniors are taking advantage of elderly alert systems that make it easy and safe to be more active, inside and out of the home.
Aging bodies are more prone to accidents and illnesses, and we know that falls account for a large percentage of injuries, and even death, with older people. Elderly alert systems utilize simple technology to keep you connected to emergency personnel with just the touch of a button.
Easy-To-Use Technology
Some systems use a base unit that is set up in the home. You wear an emergency call button encased in a stylish pendant or on a bracelet. A simple push of the button in an emergency alerts an on-call operator, who can communicate through the base with you. If needed, the operator will call an EMT, ambulance, or even contact a friend or relative.
Other elderly alert systems have a mobile component, where a small device with the emergency button can be put in a pocket or purse. These are a great choice if you are a senior citizen who is out and about. You can be shopping, going to appointments, or playing tennis. With your mobile alert system, you are able to immediately get help when needed.
Even more advanced systems include fall detection capabilities. If you fall, the operator is alerted immediately and can summon help, even if you can't move or speak. Additionally, GPS systems in some devices make it very easy for emergency responders to locate you, either in the home or elsewhere.
Stay Active and Safe
You can't put a price on your independence as you age. With the technology of elderly alert systems, you can be as independent as you want. Learn which system is best for you by reviewing medical alert systems available, and continue to live your life on your own terms.