BLOG /
Medical Alert Systems
Seniors on a Budget: Tips and Tricks to Stretch Your Dollars
By Paul Gamber |
18228
Views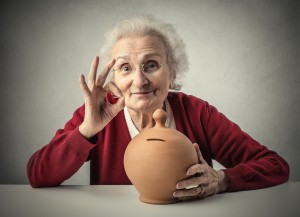 Living within a tighter budget can be a challenge when you make the change from employee to retiree. This can be particularly tough for seniors with no 401k or pension plan who are getting by on Social Security alone.
If your income was reduced with retirement, it makes sense to reduce your expenses accordingly. The following are tips to help seniors stretch their retirement dollars and make ends meet.
Don't Pay for Convenience
It may be easy to stop for a coffee while you are out and about, but you can save money by making your own coffee at home. The same principle applies to eating meals out. By preparing your own food from scratch at home, using fresh, wholesome ingredients, you can enjoy a better meal at a fraction of the cost.
Do Your Grocery Shopping Only Once a Week
Limiting your trips to the grocery store to once a week will force you into better meal planning and reduce impulsive spending. It will also reduce your gasoline costs and car expenses.
Pay Annually If You Can
If you are paying smaller monthly installments on insurance and other services, you will end up paying more in the long run. Making annual or semi-annual (instead of monthly) payments can save you money.
Buddy Up on Travel
Whether you are running errands, dong a short road trip, or taking an extended vacation, it can reduce your expenses to travel with a friend. Buddying up can lower per-person costs of travel.
Never Pay Late Fees
Keep track of when all your payments are due and ensure they are paid on time to avoid late fees. An easy way to do this is to set up recurring bills for automatic payment.
Refinance Your Mortgage
Refinancing when interest rates are low could lower your monthly payments significantly. If your new payments will be low enough to recoup the cost of refinancing in only a few years, then it makes sense to take advantage of lower rates.
Shop for Better Medicare Coverage
Last year's Medicare coverage may not be the best deal available this year. Do some careful comparison shopping during the next open enrollment.
Unplug Unused Electrical Devices
Most electronic devices use a small amount of power if plugged in, even when they are not in use. If you make it a habit to only plug in devices when you are using them, it can make a difference in your electric bill.
Find Medical Alert Buttons with Free Equipment, Activation, and Installation
It makes sense for seniors today to have home-based or mobile systems with medical alert buttons in case of an emergency. By pushing medical alert buttons on bracelets or pendants worn 24/7, older adults can have help on the way immediately when they need it. Scan through our medical alert comparison to find a system that suits your needs and offers free equipment, activation, and installation to reduce your costs.