BLOG /
Medical Alert Systems
The 3 Best Medical Alert Necklaces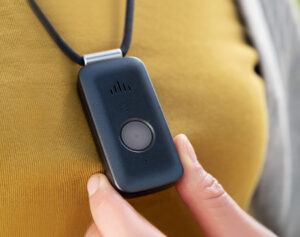 Ever since these portable medical alert gadgets have made their way into our lives, ensuring medical and emergency help for our loved ones has become easier than ever. To top that, what is more convenient about these medical alert gadgets is that they are wearable in many convenient forms.
While traditionally we had heavyweight medical alert gadgets that made it difficult to carry along, and some were not even wireless, the new-era medical alert devices are not only user-friendly, easy to carry but also intelligent, thoughtful, and innovative in performing operations.
This post compares the wearable medical alert devices — mainly the necklace provided by renowned medical alert device providers. To understand how each one differs from the other and what features they possess, read further.
Medical Guardian's Mini Guardian Wearable Alert:
The fast, easy to operate and a reliable medical alert device such as the Mini Guardian Wearable alert makes life convenient as it enables reaching emergency help with a single touch. Moreover, this wearable medical alert button is not only lightweight to ensure carrying along easily but also is half the size of the standard medical alert devices.
What Specifications does Mini Guardian Have?
The unique and easy-to-carry mini guardian pendant has specifications that makes it the best wearable medical alert necklace. The height does not extend longer than 2.72 inches making it easier to wear around the neck.
An audio speaker ensures two-way calling with HD voice certification with a width comparatively less than any other medical alert device that extends no wider than 1.38 inches. Absolutely lightweight, weighing less than 1.4 ounces makes it lighter to hang around the neck.
Since it is waterproof with a water rating of IP67, therefore keeping moisture away will not be a matter of concern, even if it falls in the water.
What are the Features of Mini Guardian Pendant?
The fall detection function enables the users to get help immediately. In case the fall was not severe and the alarm was false, then this built-in feature enables users to cancel it immediately. The team, on the other side, is a multilingual staff which means communication is error-free.
The GPS-enabled device with Wi-Fi makes it easier to locate not only the user to provide immediate help but also makes it near to impossible to lose the site of the device since the location can be traced easily.
Battery life extends to a period of 5 days, which means you can go places without worrying about running out of the battery with a single recharge.
A water-Resistant wearable necklace lets you enjoy your time in the water without worrying about malfunctioning due to moisture reaching the mechanism.
Apart from the Mini Guardian Necklace alert gadget, another intelligent wearable device is the Active Guardian. Read further to explore how Active Guardian is different from Mini Guardian.
The Active Guardian Medical Alert Pendant:
This smart and innovative medical alert device comes with GPS and Wi-Fi that allows your location to be tracked wherever you are within the range of 1300 feet. Additionally, this pendant has a button that allows you to get help with one touch immediately regardless of your whereabouts.
How Active Guardian Works?
This wearable pendant consists of a cellular network that connects the users to the monitoring center, sending help of any sort that the user requires. Since the cellular network is 4G, therefore, the connectivity is robust and quick. Based on the user's location and the kind of help the user needs, the monitoring center sends help tracing the location via GPS and Wifi.
What Are The Features?
This is an all-in-one wearable gadget that has:
A powerful speaker with HD Voice which ensures an error-free two-way communication
Help via a single button is reached regardless of the user's whereabouts
GPS enabled with Wifi makes it easy for the helping teams to reach where the help is needed. In case the user loses the site of the device, this feature enables the user to locate the device
Built-in fall alert ensures an automatic alarm. In case the alarm was false or did not require immediate medical assistance, then this feature allows users to cancel the alarm instantly
Water resistance enables users to carry it in water or damp terrains without any concerns for malfunction due to moisture
Medical Guardian's Mobile 2.0 Button Necklace and Pendant:
Lightweight with a sleek design, this medical alert device hangs perfectly in your neck wherever you go without making you feel discomfort. In addition, this medical alert device ensures that you get help as quickly as you contact the monitoring center.
The Features of Mobile 2.0 Button Necklace:
4G enabled, this gadget allows the user to instantly connect with the monitoring center with robust connectivity to ensure error-free communication. The speed of connection is faster than ever.
Smart and innovative, this gadget can also operate via voice command.
GPS enabled makes tracing the location not only easier but highly accurate as well.
Users can either wear it on their neck or hang it with their apparel without worrying about being wet since this device is entirely water-proof.
A single charge enables users to have a long trip lasting 5 days or more.
A single touch connection connects the users with the monitoring center having a team available 24/7.
LED lights ensure assistance for the user in the dark.
How Does It Work?
With the help of a single button, you can connect with the monitoring center with teams available for you 24/7. You can request help of any sort, including medical help, fire emergency, EMTs, police, or even consultants.
The Takeaway!
Whether you go on a casual stroll on the streets or go far apart as your inner explorer wants you to go, having a medical alert device that is easy to carry makes your trip worry-free. You may not want one for you, but you may want your family members to have a safe and secure time at home or elsewhere.
What could be a better way of ensuring their safety or yours than having a medical alert device hanging around your neck that comes with a long-lasting battery, water resistance, and fall detection? Get one for your loved ones today.
Learn more about Medical Alert Necklaces