BLOG /
Medical Alert Systems
The Alert Button – A Must-Have for Seniors Living Independently
By Paul Gamber |
2485
Views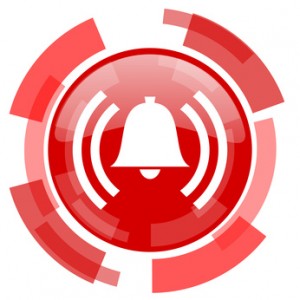 There's no place like home, and this is particularly true in the case of senior citizens. As we grow older, we deserve to enjoy our golden years living independently in the comfort of our own homes if we choose to do so. Unfortunately, no one is immune to the process of aging, and seniors face a higher risk of health emergencies and falls that can cause serious injuries. A medical alert button is a must-have for older adults living independently.
The Alert Button: A Crucial Part in Any Medical Alert System
A standard in-home medical alert system is composed of three basic parts:
Base station or console unit, equipped with a speaker and sensitive microphone, which connects to the home telephone line;
Emergency response monitoring center that provides 24/7/365 monitoring services; and
Alert button (also known as the "panic button" or "SOS button") worn by the user in a pendant or bracelet.
A properly functioning alert button is a crucial aspect of a medical alert system. What good is 24-hour monitoring, 365 days a year if no one responds when you need emergency assistance because your alert button has failed to transmit the signal?
Your alert button must be waterproof, so it can be worn in the bath or shower. According to the National Floor Safety Institute (NFSI), falls are the second leading cause of death from injuries in people 65 to 84 years of age. The bath or shower is one of the most likely places for dangerous slip and fall accidents to occur. This is why it is important to never take your medical alert button pendant or bracelet off, particularly when bathing.
How Your Medical Alert Button Works
Medical alert buttons can be worn in a pendant around the neck or as a bracelet for those who prefer it. A pendant may be more comfortable for some people who don't like wearing anything around the wrist, and may also be easier to reach in an emergency. If you don't like displaying your medical alert pendant as you would jewelry, you always have the option of placing it underneath your clothing.
Pendant or bracelet, choose the form that is most comfortable for you, and wear it at all times, even when bathing or sleeping. (If you are not comfortable sleeping with a bracelet or pendant on your body, at least keep your alert button within easy reach while you sleep).
When you press your alert button in an emergency, it sends a signal to the base console unit connected to your phone, which calls the emergency response monitoring center. Momentarily, you will be speaking to an operator who can get you the emergency assistance you need.
Quality of life is important in your golden years. If you prefer to set your own schedule and pursue your own activities in the comfort of your own home as you grow older, a medical alert button can give you and your family peace of mind and help make independent living a reality.